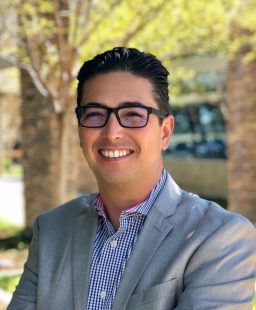 Pablo Velasco
Senior VP, Retail Leasing & Sales
CA License DRE #01755526
View Current Listings
Background
Pablo Velasco has worked in retail commercial real estate since 2008. He specializes in assisting developers, landlords, and tenants in developing, selling, or leasing their commercial properties. He also represents tenants in expanding their brands by locating potential sites, analyzing the trade area, and negotiating their real estate requirements, such as ground lease, build-to-suit or purchases.
In recognition of Pablo's success, he has been awarded CoStar's Top Power Broker Award several times. This award recognizes brokers who have had the most transactional success in their region. He has also earned several awards within his firm, demonstrating his dedication and expertise.
Having grown up in the Inland Empire, Pablo's strengths include deep knowledge of the trade areas in and around the marketplace. Pablo has cultivated great relationships with developers, landlords, tenants, brokers, and industry experts such as title reps, architects, contractors and others making him a knowledgeable advisor, resource, and trusted friend. All of these relationships benefit the clients that Pablo serves to help them achieve their goals.
Prior to joining Progressive in 2011, Pablo was a Retail Real Estate Advisor for The Bergman Companies, specializing in site selection, financial analysis, project management and marketing for leading retail brands.
Having completed more than 200 transactions as a retail broker, he brings tremendous value to his clients' portfolios with his knowledge and ability to mechanically structure contracts and creatively solve challenging deals.
His work with recognizable brands includes: The Habit Burger, Starbucks, Dunkin', Wendy's, Carl's Jr., McDonalds, Texas Road House, Wingstop, Subway, Marco's Pizza, Jersey Mikes, Pizza Guys, Waba Grill, AMPM Arco, Circle K, Union 76, Lumber Liquidators, Sola Salon, 7-Eleven, SAS Shoes, 3 Mens Suits, Firestone Tire, Liberty Tax, Elite Medical Clinic, Boost Mobile, Curves, Brite Smile Dental, Miracle Ear, Planet Fitness, Great Clips, The Camp Fitness, Farmers Insurance, IEHP, Davita Health Care, and many more.
Pablo continues to give back to his community by donating his expertise in the real estate industry and proudly serving as an Executive Vice President for Habitat for Humanity San Bernardino. In addition, he is on the Dean's Advisory Council for the Zapara School of Business at La Sierra University, where he also earned his MBA degree in Finance in 2005.
During college Pablo joined Students In Free Enterprise (SIFE), a business club that focuses on new and ongoing business projects locally and abroad. After being elected the VP of International Business Projects, Pablo helped lead the team to a National Championship and a World Cup, in which the SIFE team competed.
Pablo is an active member of several retail commercial industry organizations, such as the International Council of Shopping Centers (ICSC), Association of Commercial Real Estate (ACRE), and Retail Brokers Network (RBN).  He also regularly attends local industry events sponsored or hosted by local cities in San Bernardino and Riverside Counties which provides him valuable info on local and state economic issues that are vital to understanding how to navigate the challenges our state and region are facing.
Pablo, his wife, and two children, along with their three dogs, call Rancho Cucamonga home. They are proud sponsors of children from Africa, India, and Mexico through World Vision and Mission of Mercy. Additionally, they are both members of Soft Coated Wheaten Terrier Club of Southern California and actively involved with Wheaten Terrier rescues.