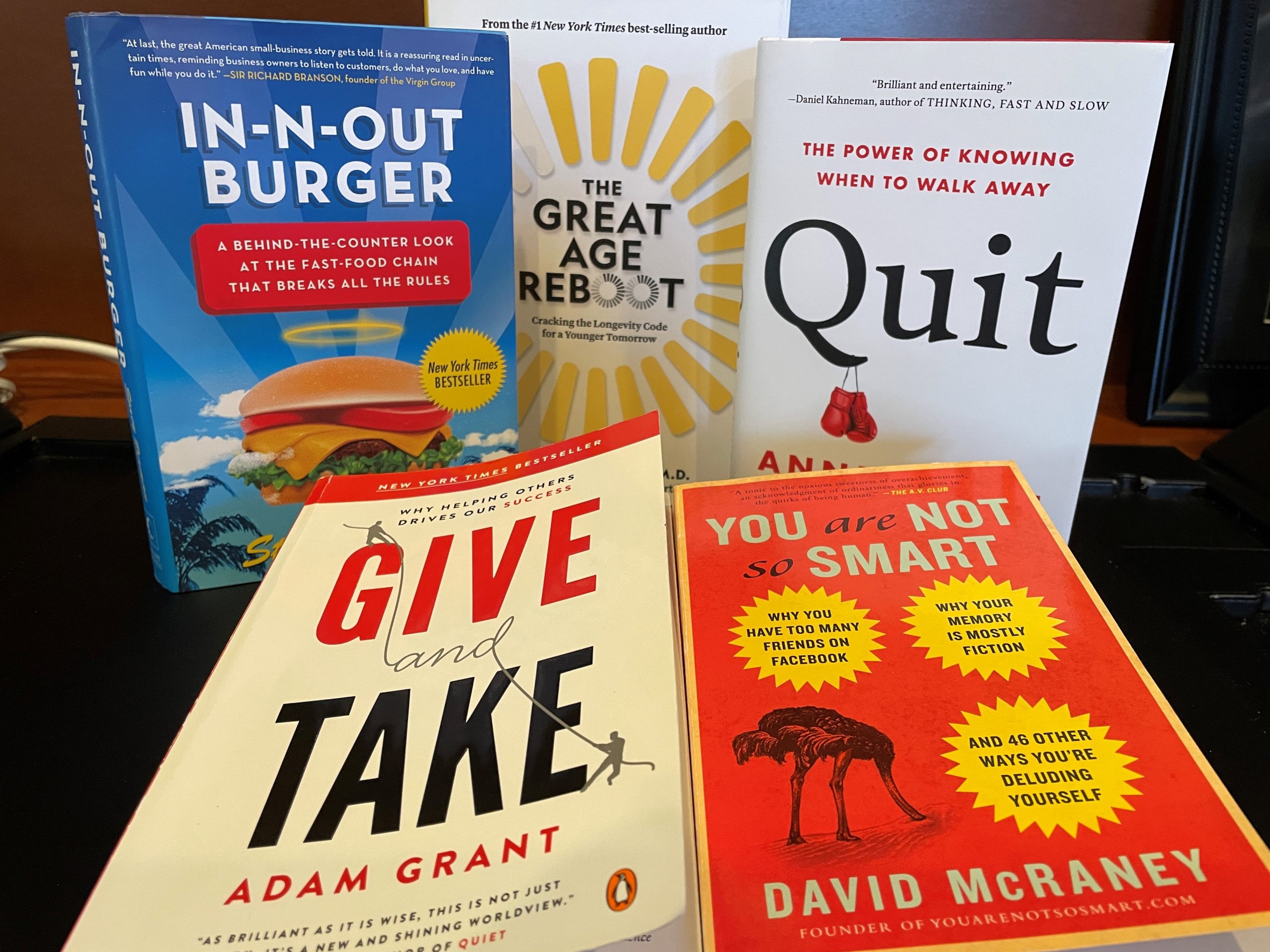 This year's holiday calendar results in Christmas and New Years both being on Sunday which is likely to mean our industry will be very quiet next week. Commercial real estate seems to have morphed into an industry with very little mental time off as emails and texts just don't stop. I am actually hopeful that the Progressive Real Estate Partners team (as well as many others) use next week to get some well-deserved rest after what has been a great year for so many.
I intend to use a chunk of next week for reading. Some fiction and some non-fiction. Thinking that some readers of this blog might also be looking for a book recommendation, I thought I would share 5 books that I have read that might be of interest to you as well.
In-N-Out Burger  by Stacy Perman: This is the story of In-N-Out Burger, a Southern California iconic brand that has spread throughout many Western and Southern states. For those who live and work in SoCal, the book is even more special because it specifically discusses so many locations that the reader will know about. The book shares how Harry & Esther Snyder started and expanded the brand, their philosophy towards business and the tumultuous family history and tragedy that eventually resulted in Lynsi Lavella Snyder becoming the sole owner of this restaurant chain at age 35 resulting in her current net worth of over $4B. Although a non-fiction book, it reads like fiction. You will also learn of the incestuous fast food industry and how so many of the industry leaders knew and interacted with each other resulting in their respective success. If you love In-N-Out, or just a good entrepreneurial story, you will love this book.
You are Not so Smart  by David McRaney: I love behavioral economics which in my own words is the study of why and how we make economic decisions. I particularly enjoy learning and understanding why we make decisions that may go against our own best interests. You are Not So Smart is a book broken into 48 chapters with each chapter reading independently. Each chapter explores a behavioral delusion, fallacy, heuristic, or a type of effect on our decision making. For example, there is the Texas Sharp-Shooter Fallacy which effectively causes us to think we are observing a pattern when actual events are just random. It gets its name from someone who randomly took shots at the side of a barn, but then afterwards painted a bulls-eye over the place where the random shots were most closely together. We encounter situations like this all the time in life whereby we may perceive random events as having meaning. The ideas in this book are great for making you observe your own decision making and helping you recognize how you might be able to make better decisions (or at least rationalize the ones you did make).
 
The Great Age Reboot  by Michael Roizen, M.D. & Peter Linneman P.H.D.: This is one of my most recent reads as the book was published earlier this year. One of its primary suppositions is that if you look at the technological changes that have occurred within the computing industry over the past 30 years and project that onto the health care system for the next 30 years, the changes could be remarkable. It also examines how this may financially impact our economy and ideas we might consider professionally. The book is very optimistic. It forecasts that a significant segment of our population will live much longer and healthier lives and that due to the productivity of these individuals, our country will be able to bare the financial needs of this population. It certainly will make you think about whether or not you agree with their projections and what impact these changes may have on society. Furthermore, it digs into ideas that we can pursue as individuals to hopefully allow us to live long and healthy enough to enjoy these advances in healthcare. Just observing how many of our colleagues in commercial real estate are working well beyond what would be considered "normal" retirement age justifies many of the ideas suggested in this book.
Quit – The Power of Knowing When to Walk Away  by Annie Duke: I am back to another book that is based upon behavioral economics. Annie Duke was an academic who decided to quit academia to pursue being a professional poker player. She went on to win over $4M playing poker. In this book she pursues the question of why many people tend to take the wrong course of action for too long. This may include staying in a relationship, keeping a job, or holding onto a real estate investment. One of my favorite parts of the book is her discussion of why California's leadership continues to throw good money after bad relative to the high-speed rail system that is supposed to connect the San Francisco Bay area to the Los Angeles area. The book not only explores why people keep going when they should turn around, but the most valuable insight from the book is helping us understand how to make the decision to Quit an action or activity.
Give and Take – Why Helping Others Drives our Success  by Adam Grant: For those of you who don't know, Adam Grant has become one of the most popular thinkers of today, but in a pop culture manner. His class at The Wharton School was the most popular class for at least a few years (it might still be). In his own words, he said, "I study how to make work not suck." He has gone on to write a few popular books, has the Work/Life podcast in which he most recently interviewed Dolly Parton, NFL Linebacker Emmanuel Acho, and Reese Witherspoon. He has 1.8M followers on Instagram. Not bad for an academic. In this book, Professor Grant examines the idea of whether generosity of sharing ideas, connecting people to others, and working collaboratively vs. competitively may all be better ways of achieving success compared to the "Greed is Good" mantra of the past. Personally, I have lived my life as a Giver far more than a Taker. It has allowed me to live in harmony with my values, it has made my career far more enjoyable than I believe it otherwise would have been, and it has been plenty profitable. Of all the books I listed above, this one may be the one that I marked up the most and that I look forward to reading again.
On behalf of the entire Progressive Real Estate Partners team, we wish you great health, much wealth, a pleasant holiday season and a fantastic 2023!