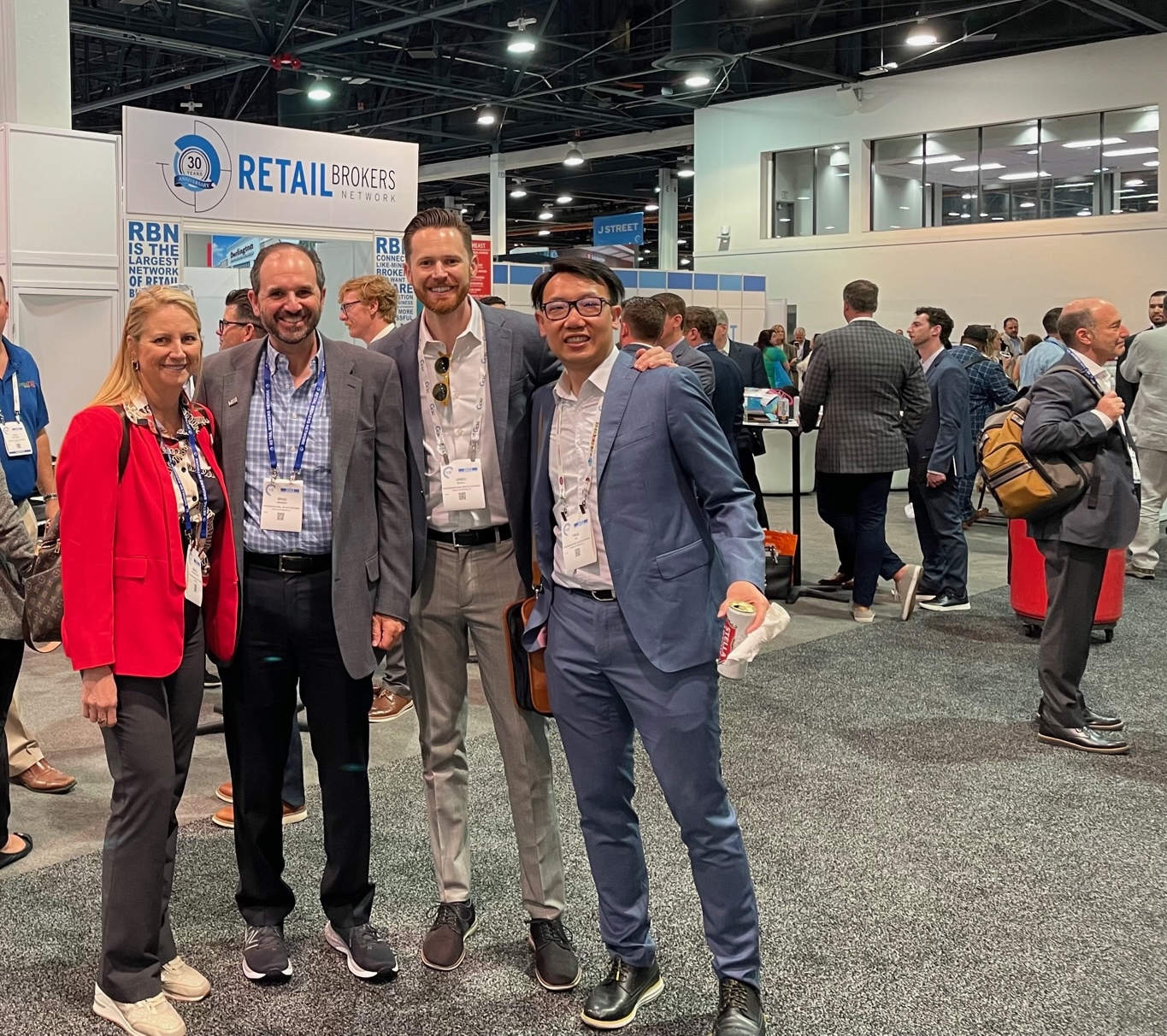 It was great to be back in person at this year's ICSC Las Vegas conference and to learn about the latest trends shaping the retail real estate industry. Nine brokers from the Progressive Real Estate Partners team attended and we had an incredibly productive show with lots of meetings, learning and networking. In an industry largely driven by relationships attendees were thrilled to be interacting in person vs by computer and there was a high level of optimism and recognition that not only are we in the retail real estate business but we're also in the problem-solving business.
There were a reported 24,000+ people total at the conference.  Our firm is a member of the Retail Brokers Network (RBN) which is a professional group representing 55+ independent retail brokerages nationwide and once again they hosted a booth which was our home base and non-stop busy with over 400 of our RBN colleagues in attendance.
The following takeaways are a result of my direct observations as well as discussions with our team and members of the RBN network:
Tenant Demand Outpaces Quality Space

: Most tenants are represented by brokers. As such, you can't judge tenant demand by the number of retailer booths at the conference (which were fewer than years past), but instead you have to speak directly with the tenant reps. Over and over, I heard from tenant brokers that they are unable to locate space that their client's find suitable. This is a result of record low retail vacancies and low development activity.
Disconnect Between Developer's Needs and Tenant Ability

: In theory, if there is high tenant demand, then developers should be able to fill that demand by building more space. But this is retail and not industrial or office. In retail, the cost of the real estate is a substantial factor to the tenant's profitability and frequently the one variable that a retailer can try to control (vs. labor, cost of goods, utilities, insurance, etc.). Because of higher construction costs, interest expense, municipal fees, and higher return requirements, there is frequently a disconnect between what the tenant is willing to pay and what the developer needs to justify construction. As a result, I heard from both developers and tenant representatives that it has become really difficult to move projects forward that both want but the math may simply just not work.
Disconnect Between Buyers and Sellers

: Loan terms for stabilized retail investment property are generally ranging between 5.75% to 6.25% (assumes 5 to 10 year fixed rate loans) with maximum leverage of about 60% loan to value. To obtain positive leverage based upon these figures, a buyer needs to obtain a 7% cap rate. At a 6% cap rate, the cash-on-cash return is only 3.4%. Traditionally, buyers purchase retail to obtain current cash flow, depreciation, and long-term appreciation. Unless a buyer is feeling very strongly that they can push rents, it is difficult for buyers to justify buying a retail property that has very little room for error based upon current terms. The sentiment among investment brokers was that many sellers are optimistic that interest rates will come down and many buyers are content to leave their funds in money market accounts earning about 5%. As a result, brokers are reporting investment sales activity is down substantially this year compared to 2022. Seller motivation combined with changes in cap rates and interest rates are the key to unlocking this disconnect.
Loan Expirations May Break the Impasse

: Although there will be plenty of reasons that people will want to sell including improving the quality of their life, dealing with a life situation like death or divorce, returning funds to investors, the place where most active buyers are hoping to see true motivation is with expiring loans where a seller is forced to sell to pay off either the debt on the subject property or raise funds to add to another property that has a loan expiring and an influx of capital is needed to hold onto the asset.
Year of the Express Car Wash

: As express car washes continue to proliferate, it seemed that most of the players were exhibitors. These included Bliss, Hang 10, Mr. Clean, Quick Quack, Sonny's, Super Star, Tommy's, and Zips. We are also aware of others that are seeking sites but were not exhibitors. As one developer told me, these car washes are becoming critical to many new neighborhood shopping centers. Express car washes can pay substantial rents for the land that they occupy and these rents are utilized to subsidize other tenants in the shopping centers such as the grocery store. As a result, if a city wants a new retail development, allowing an express car wash into the project is frequently the difference between the project penciling and not penciling.
Cities Say They are Business Friendly, But Are They? There seems to be another disconnect in the marketplace and this one is between cities; and property owners, developers, and retailers. I heard numerous stories about problems with city entitlements. And in some cases, the cities involved are the same ones that were present at the conference promoting how business friendly they are. To protect the innocent and not so innocent, I am not going to name names. But it is clear to me that the pendulum has swung too far to the municipal side, and it may take a shift in the marketplace to resolve this problem.
The PREP Team Makes Me Proud

: I know it is self-serving, but I have to share how good it makes me feel when so many people at the conference complimented our individual team members from Progressive Real Estate Partners. Thank you to all the owners, tenants, brokers, vendors, and municipal officials that shared their compliments. I appreciate all the kind words and I appreciate all that do business with our team.
All in all It was a fantastic show.  One thing for certain retail is definitely not dead and it's amazing to witness how the industry has so expertly adapted and evolved to the ever-changing retail landscape and customer preferences.  In closing a big THANK YOU to our colleagues at RBN for all their efforts managing and hosting the booth AND to the ICSC planning team on putting on a stellar convention.