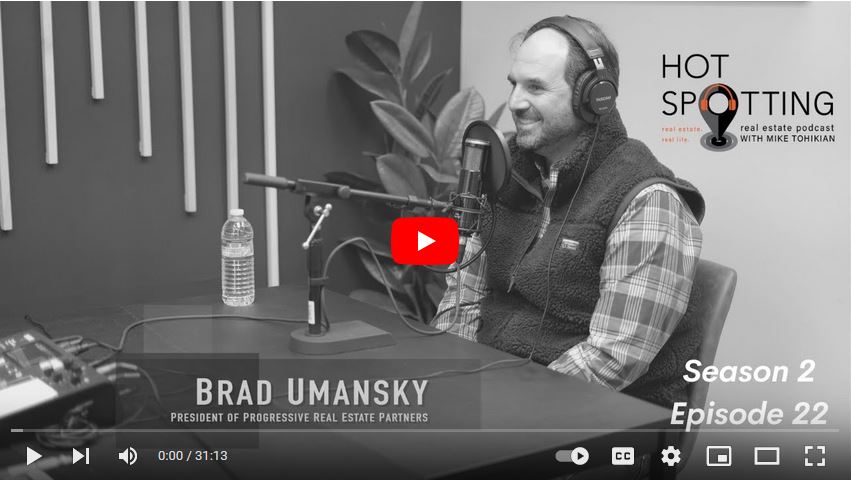 This blog is a bit promotional, but mostly for Mike Tohikian's Hot Spotting Podcast. I recently had the opportunity to be a guest on Mike's podcast and it was a lot of fun.
The first episodes of the Hot Spotting Real Estate Podcast launched in January 2022. Thus far, he has dropped 22 episodes with numerous others in the pipeline. Mike's guests have already included many great individuals within the retail community including Greg Giacopuzzi of Newmark Merrill, Ken Caron of Lewis Retail Centers, Natalie Pebbles of Jersey's Mikes, Chris Bergren & Rogg Collins of Evergreen Development, Robin Bhalla of The Festival Companies and many other well-known individuals within the retail real estate industry. I have listened to just about every episode and have learned so much from this podcast.
I love what Mike is doing as he is marketing himself using a unique medium (at least unique to the commercial real estate industry) while also helping others. Best of all, Mike is a great host and interviewer. He has a great voice and a natural talent for interviewing those in our industry and making the interviews fun and fast. Each episode is about 30 minutes.
Mike has been in the shopping center business for over 15 years. His company, Hot Spot Properties focuses primarily on representing tenants such as McDonald's, Denny's, Popeyes, Panda Express and others.
He is married with two young daughters. His 5 year old daughter, Allessandra has a featured segment called "Allessandra Wants to Know" at the end of each episode. This segment is frequently one of my favorite parts of each podcast because you learn something very personal about the guest.
In his interview with me we discussed:
My early days of becoming a retail broker
What Progressive Real Estate Partners was originally envisioned to be and how I pivoted during the hard times of 2008 to make it a retail brokerage firm
My thoughts on why there are so many boutique retail firms in SoCal and across the nation
Why I wrote the book, Value Added – Successful Strategies for Listing & Selling Commercial Real Estate along with advice to those early in their CRE brokerage careers
And last but not least some of my secrets that Allessandra got me to reveal
So whether you listen to Mike's interview with me or other guests, I highly encourage you to tune in or watch his interviews via YouTube. Here are the links that you can utilize to become an active listener or viewer. Happy podcasting!
YouTube:  https://www.youtube.com/@hotspotproperties
Other Platforms (scroll down for links):  https://hotspotproperties.net/hot-spotting-podcast/