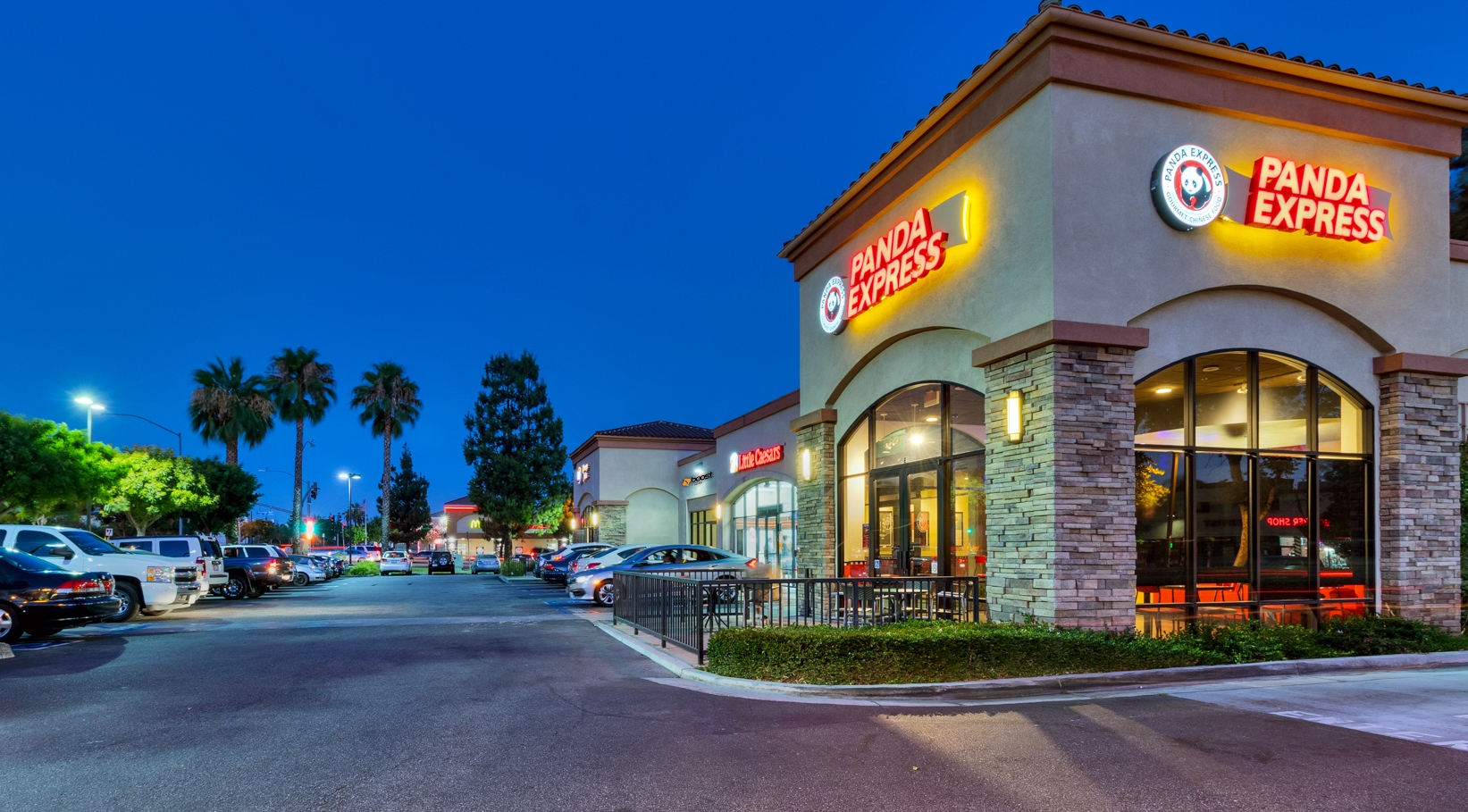 *Listing generated multiple offers and sold above asking price at almost $700psf  in an all-cash transaction with a 10-day due diligence period
Rancho Cucamonga, CA – October 29, 2018 – Progressive Real Estate Partners and Epsteen & Associates San Diego announced today the sale of the Shops at Mission Square a 5,852 square-foot retail center for $4,050,000 ($692 psf). Located at 4467 Mission Boulevard in Montclair, California, the property sold above listing price in an all cash transaction with a 10-day due diligence period.
Retail Brokers Network colleagues Joe Wojdowski of Epsteen & Associates San Diego and Greg Bedell, VP of Investment Sales from Progressive Real Estate Partners exclusively marketed the property and represented the seller, a private San Diego-based investor. The buyer, a private Yorba Linda-based investor was represented by Scott Chang of 168 Realty.
Built in 2007, the fully leased Shops at Mission Square is home to four successful national brands–Panda Express, Little Caesars, Dairy Queen (drive-thru) and Boost Mobile. The well positioned property benefits from a dense trade area with a population of more than 216,000 people with an average household income of $73,207 in a 3-mile radius. Additionally, retail sales within 3-miles are a staggering $1B-plus demonstrating the incredible retail velocity in the trade area. Furthermore, the center enjoys excellent street frontage and is located at a signalized intersection on the highly trafficked Mission Boulevard with visibility to 33,795 cars per day.
According to Greg Bedell, "This sale is a perfect example of what we have known for quite some time – listings of newer centers in core markets like SoCal's Inland Empire with an internet resistant, national credit tenant mix drive high investor demand and results in premium pricing and excellent terms. Additionally there has been a lack of quality smaller multi-tenant centers available in the market making this listing even more desirable to investors".
Joe Wojdowski added, "We were in a competitive bidding environment virtually from the time the listing hit the market putting the seller in the enviable position of sifting through suitors to determine the best match. This ultimately led to an above ask sales price with an all-cash buyer and a quick 10-day due diligence period exceeding the seller's objectives".
About Progressive Real Estate Partners
Progressive Real Estate Partners (PREP) is a boutique commercial brokerage firm headquartered in Rancho Cucamonga, California. Founded in 2008, the firm specializes in the leasing and sale of retail properties in Southern California's Inland Empire market. The office is also the exclusive Inland Empire representative of the Retail Brokers Network (RBN). Since the firm's inception Progressive has completed over 750 lease and sales transactions in over 35 cities throughout the region. Progressive uses the latest marketing and brokerage techniques to help retailers and property owners achieve their real estate goals. PREP is led by Brad Umansky, founder and president.
About Epsteen & Associates San Diego
For 50+ years Epsteen & Associates has help shape the Southern California retail landscape. Having made a name for itself pioneering the Tenant representation niche, Epsteen & Associates has brought the same creativity and diligence to Investment and Landlord representation trades. Epsteen's comprehensive knowledge base gives clients a leg up to create value at each and every angle. Epsteen San Diego is the market representative for the Retail Brokers Network (RBN). For further information please visit www.epsteen.com.