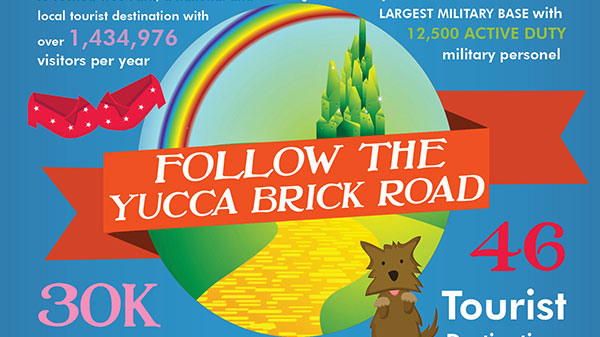 PREP has listings all over the Inland Empire, including the Town of Yucca Valley. While some may raise an eyebrow at this market, our real estate experts see tremendous and unique opportunity to build a retail haven, or a new "Oz" if you will. Take our 5774 29 Palms & 58132 29 Palms locations for example, two moderate sized strip centers with an outstanding trade area and retail potential.
So where exactly is this Yucca Valley "Oz", and more importantly, why should you care?
Yucca Valley is definitely not in Kansas, but it's far enough away from the hustle and bustle of Southern California's overly congested cities and streets, yet close enough to over 46 local tourist destinations and several national destinations including Joshua Tree National Park, Big Bear Lake, 29 Palms Military Base and Palm Springs. Over 30,000 commuters & weekenders heading up to Laughlin, Lake Havasu, or other Colorado River cities, make Yucca Valley their last stop for fuel and food every day.
Now Follow Other National Tenants to the Yucca Brick Road!
Yucca Valley's community continues to expand and national retailers continue to take notice and advantage of its underserved retail opportunities. Ross, 99 Cent Only, Walmart, Tractor Supply Co., American Tire Depot, Taco Bell, Petco, AutoZone, Dollar General, Rite Aid, Marshalls, Panda Express and more have already joined the Yucca Valley Oz, now it's your turn!
Ready to Put On Your Ruby Red Slippers?
PREP currently represents two properties for lease in Yucca Valley. Both with high traffic counts and high demand for quality retail.
Check out 5774 29 Palms, anchored by the busiest Starbucks in Yucca Valley,  or 58132 29 Palms visible to over 30,000 cars per day.
See you in Oz!