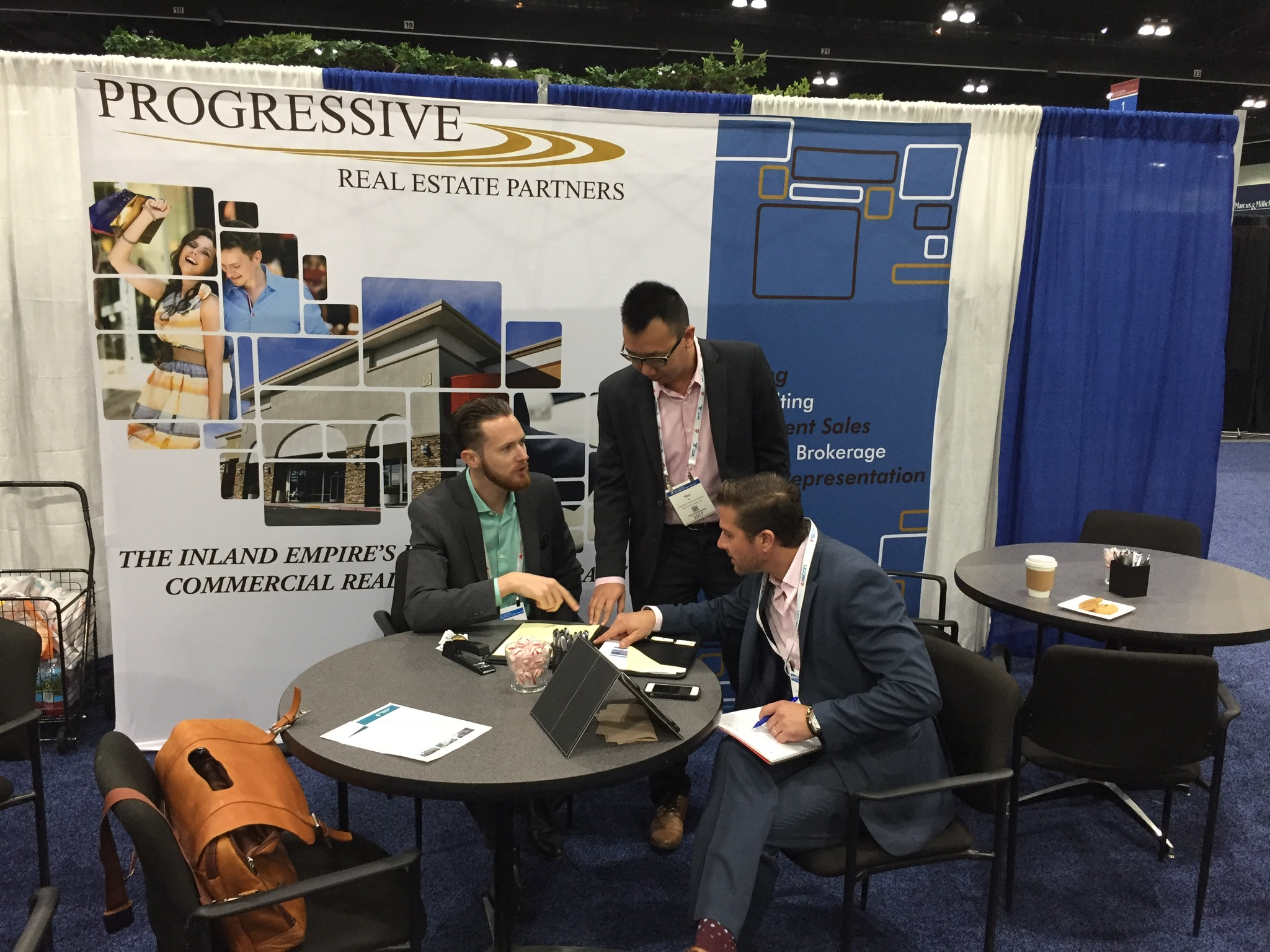 [vc_row][vc_column][vc_column_text]The Progressive Real Estate Partners team just returned from the annual ICSC Western Division Conference which was held for the first time at the Los Angeles Convention Center.  We hung out with over 4,000 of our closest friends in the industry making deals and building relationships!  Here are some of our "post-game" takeaways:
Existing Non-Mall Retail Properties are Fairly Strong. Despite what you may hear in the news, retail vacancy is down just about everywhere and most quality space is getting leased. The media often focuses on the enclosed mall world which is clearly suffering more than other shopping center formats. Most retail vacancy these days is in a select group of challenged properties or amongst big boxes.
The Shopping Center Industry is Busy & Productive. We may be a smaller industry than we were years ago, but we are definitely a more professional industry. Many we spoke with are actually feeling a bit over worked these days. That being said, all are grateful for being over worked versus not having enough work.
SoCal's Inland Empire Continues to be In High Demand. The Inland Empire is continuing to enjoy the best retail economy we've had in a decade.  We had a constant flow of traffic at the Progressive Real Estate Partners booth and lots of productive meetings with property owners, developers, municipalities and retailers all interested in learning more about the excellent retail opportunities available in the market.
Restaurant Tenants Are Battling for High Quality Space. This is creating bidding wars for high quality space. Landlords in these circumstances are not just choosing the highest bidder, but choosing based upon potential longevity and tenant mix enhancement.
Earvin "Magic" Johnson is Awesome. A highlight of the show was Magic Johnson's keynote speech. He was friendly and entertaining and talked about his transformation from an NBA legend to a real estate/retail entrepreneur and now to an investor in leading sporting brands such as the Lakers, the Dodgers and the Los Angeles Football Club (new soccer team).  A favorite comment he made was "you can do well AND do good" which I felt was particularly relevant given our world today.
Downtown Los Angeles as New Conference Venue VS San Diego. The LA venue worked well in terms of the actual facility/layout but consensus amongst our team, and others we spoke with, was that they preferred San Diego. In San Diego, ICSC took over the area around the convention center and it felt like the streets were just as much a part of the conference as being inside so it was a more relaxing atmosphere plus the hotels, restaurants and evening cocktail parties were in easy walking distance. This was not the case in Los Angeles. In LA, it was less comfortable to walk around and everyone scattered throughout the area at the end of the day.  It will be interesting to hear how others felt about the new venue and ICSC's plans for the future.  While we will miss San Diego, we will get accustomed to Los Angeles.
All in all it was another good conference and, most important to me, a great opportunity to connect "in person" with industry friends.  We all spend so much time interacting via our digital devices that you can't put a price on the value of one on one interaction.  Looking forward to seeing everyone at the next industry conference (or hopefully sooner) but in the meantime feel free to reach out to me at brad@progressiverep.com.[/vc_column_text][/vc_column][/vc_row]