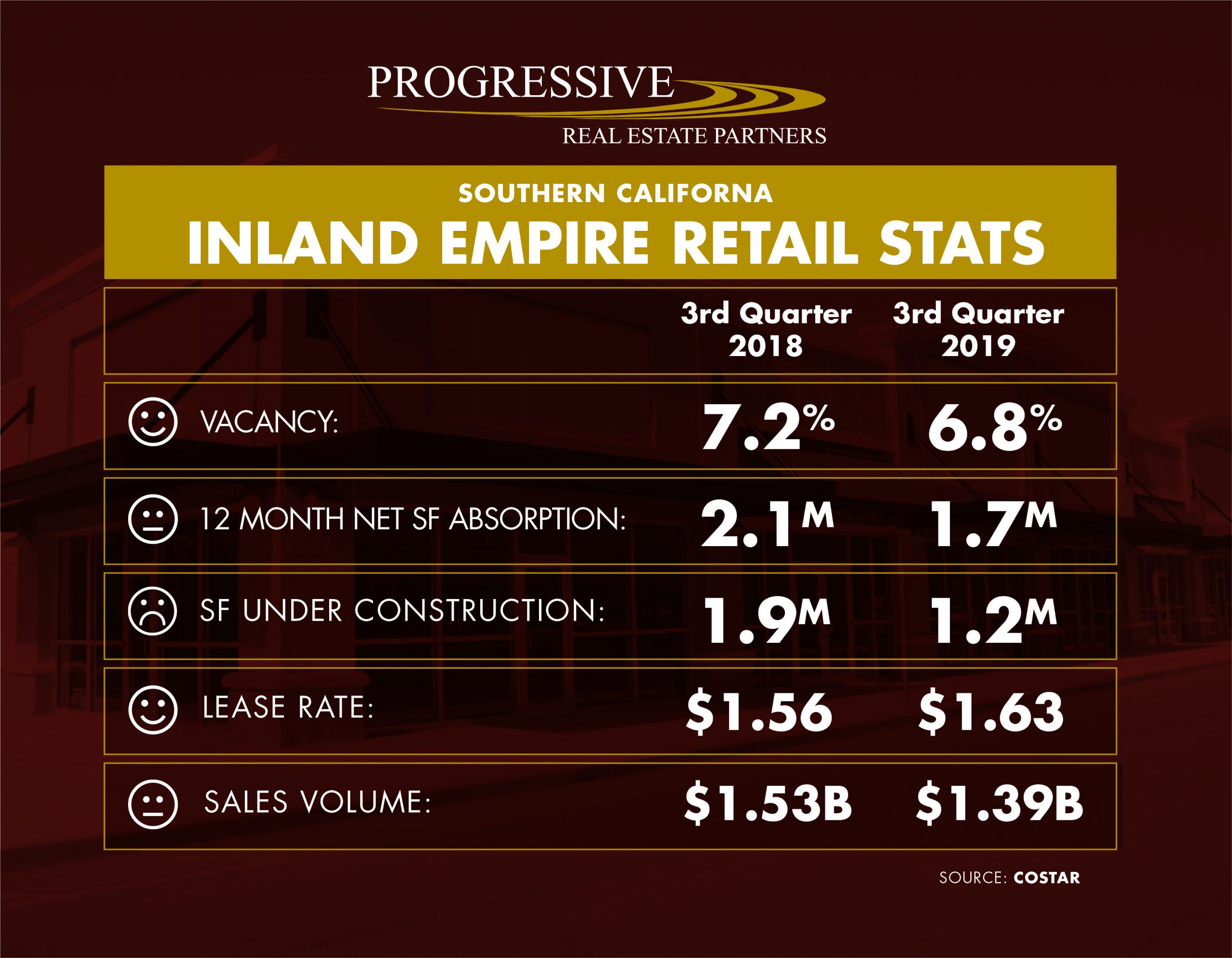 As we head toward year-end, here's a snapshot of the latest retail real estate stats for SoCal's Inland Empire with some commentary about each:
Vacancy:  Retail vacancy continues to decline. It reached 6.8% as of the end of the 3rd quarter, but that was before Forever 21 announced that it was dumping about 300,000 SF of space onto the market. Forever 21 is unique space as two of the locations are over 100,000 SF and attached to regional malls (Inland Center Mall in San Bernardino and Galleria at Tyler in Riverside). Regardless, we continue to see a tightening in the market and most space that is available is challenging either due to the space itself relative to its configuration or location, the party that owns it, or restrictions based upon CC&R's, exclusives, or zoning.
Net Absorption: Although net absorption is down 20% as compared to a year ago, 1.7m square feet is still excellent by the standards of the past 10 years. This figure is no different than the employment figures you hear each month. The reality is that it is hard to set record numbers for new hires when most people are employed. The same is true with retail. It is hard to set record numbers for new store openings when the majority of good space is leased.
Under Construction: It is disappointing that there is only 1.2M square feet under construction compared to 1.9M square feet a year ago. You would hope with the strength of the local economy, population growth and new housing development that retail development would be increasing more. Although the figures are off 37%, much of this is a result of Lewis Retail Centers completing the approximately 500,000 SF Renaissance Center in Rialto. It is still a bit disheartening that new development is not backfilling these figures. I think this is mostly due to equilibrium in the marketplace whereby the amount of retail that exists closely matches what is needed. As a result, I expect that most new development is going to be largely tenant driven and only when a tenant is unable to find 2nd generation space that meets its needs.
Lease Rates: Rates continue to trend upwards for most 2nd generation space. The average lease rate has increased to $1.63/SF from $1.56/SF on a year over year basis but keep in mind that this includes all space including old space and larger spaces. Rising triple net charges are clearly weighing down lease rates, especially on the top end of the market where triple net charges are over $1.00/SF for many projects. The rising rates are based upon fewer good spaces being available so when a good space becomes available, owners are able to increase lease rates.
Sales Volume: Investment sales volume has generally remained steady with $1.4B of retail trading hands in the past 12 months compared to $1.5B in the previous 12 months. We are definitely seeing cap rates rising for multi-tenant centers as this is reflective of the quality of the locations that are on the market, the quality of tenant mix or both. Plus there is a bit of a disconnect between sellers being really pleased with their cash flow and thinking that everything is great, and buyers being much more concerned with re-tenanting risk. Although I would love to state cap rates for multi-tenant and single tenant properties, as I review the comps it is clear that you can't broad brush cap rates for these two property types and that a number of considerations including location, tenant strength, year built, lease expirations, diversity of income stream and more are all factors.  Every property has to be looked at independently.
Overall, I would not characterize the current market as trending upward or downward.  However, I do believe we are holding steady and that the Inland Empire will continue to be one of the most dominant markets for retail in California for the foreseeable future.  I also expect that this next year will be very interesting due to the age of the economic expansion, the 2020 election, the continued influence of technology and many other factors.
Feel free to reach out to me or any of the team at Progressive Real Estate Partners at 909.230.4500 if you'd like to learn more about the market and how we can help you achieve your retail real estate goals.
Data Source: Costar