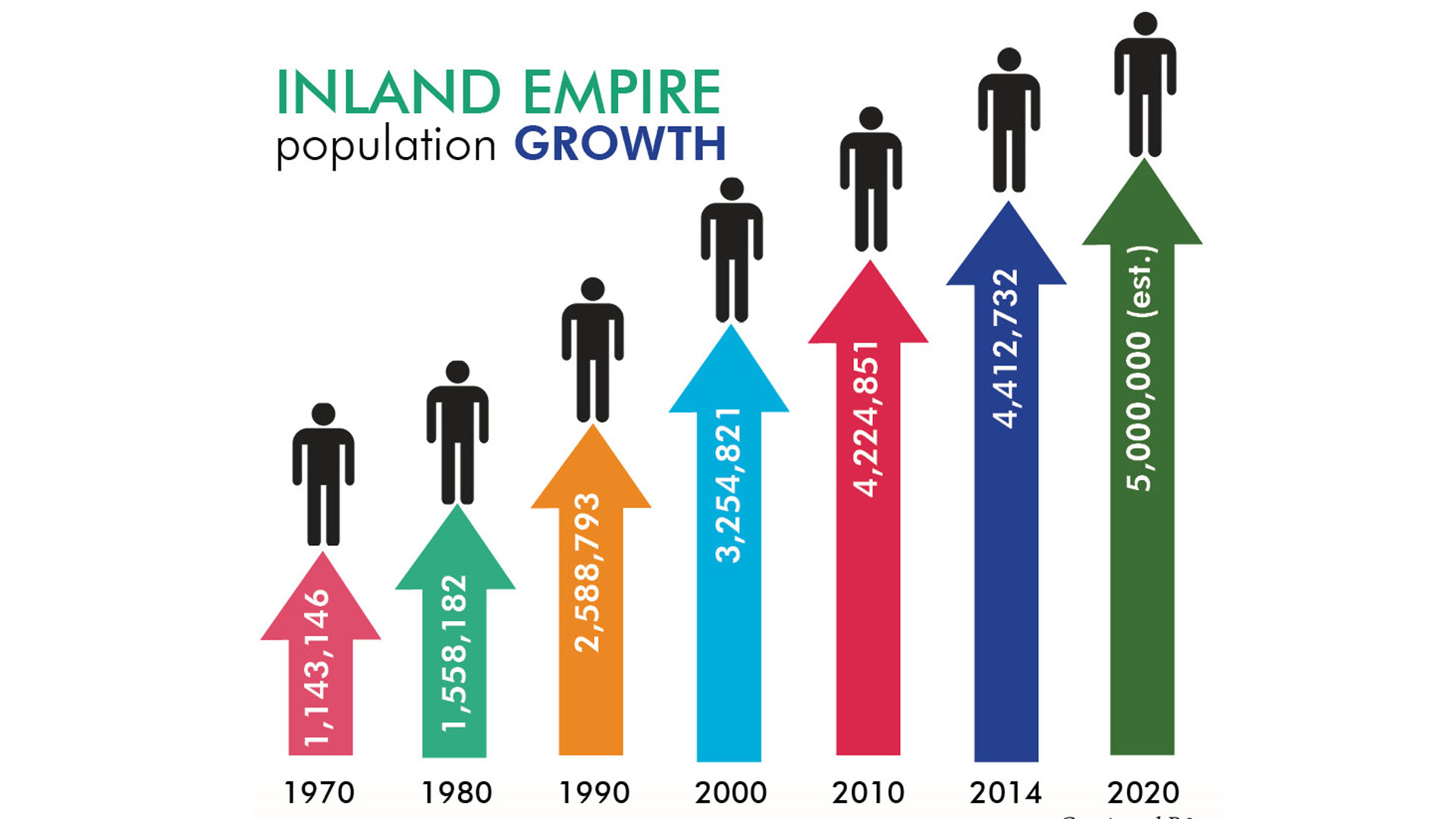 It's no secret that Southern California's Inland Empire (IE) economy has made an incredible come back from the recession. The region is experiencing record growth and shows no sign of slowing down. Here's a recap of why the IE is at the top of its game:
1. A $134B Economy: The IE has the 24th largest economy in the U.S., surpassing both Pittsburgh, PA and Tampa, FL. The growth rate is on par with other high growth cities such as Austin, Charlotte, Seattle and Nashville.

2. 4.5M People Call The IE Home: Housing affordability, jobs, and overall quality of life has been attracting people to the IE at a steady pace for years. The population growth chart below illustrates the expansion over the past 5 decades. The population is expected to continue to grow by at least 100,000 people per year for the foreseeable future.

3. Unemployment Is Down (A Lot): The current unemployment rate is 6.4 percent which is down from the recession's peak of 14 percent. Leading the job growth has been professional employment, logistics, health care, education, and leisure & hospitality.

4. More People Are Employed Than Ever Before: Employment as of July 2015 was 1,336,000 people. Over 150,000 new jobs have been created in just the past 3 years. On a percentage basis, the IE is behind only San Francisco and San Jose for job growth in California.

5. Taxable Sales Are Way UP: For the two county regions, retail sales for the 2nd quarter of 2015 are estimated at $16.9M which is 42 percent higher than 2nd quarter 2010. Clearly shoppers are on a buying spree purchasing cars, dining out, and wearing lots of new clothes.

6. The Industrial Market Is GINORMOUS: There is MORE industrial construction happening in the IE than in any other place in the US with over 60M square feet of NET industrial space having been leased in the past 3 years. Over 20M square feet of new construction will be delivered this year alone.

Graphics by Emily Leyva

7. Significant Pent Up Housing Demand: Despite substantial population increases over the past 3 years, only about 12,000 new homes have been built each year during this period of time. The housing construction industry is still down at least 80 percent from its pre-recession peaks, yet population and employment continues to increase. This can only mean that additional construction will continue to grow over the next few years further helping overall employment and income gains in the marketplace.

8. Home Prices Are A Bargain: Housing is much more affordable in the IE than in LA or Orange Counties. The median IE home is approximately $285,000 which is about $288,000 LESS than LA County and $370,000 LESS than Orange County. Even the cost of housing in high income professional regions such as Chino Hills ($587,300), Claremont ($628,400), Redlands ($351,300), Temecula ($398,200) and Corona ($439,200) are great values in comparison.

9. We Are Getting Ontario Airport Back: Ownership of Ontario Airport should be transferred from Los Angeles World Airports (they control LAX) back to the Ontario International Airport Authority within the next 12 months. This should be a huge benefit to the region's economy as it will allow the new authority to negotiate and promote the airport with airlines and passengers resulting in improved service and job growth.

10. Traffic Is Getting Worse, Which Is Good News: Traffic is undoubtedly getting more congested between the IE and LA and Orange Counties. The good news is that more employers will relocate to the IE as it becomes harder to find employees that are willing to make the commute. Every survey we've observed has indicated that people will gladly give up pay in exchange for getting off the freeways.
The IE has the land, opportunity, and vision to continue to grow and create more opportunity. Never has there been a time when the saying "It's All Good" held more true than now.
Sources: Beacon Economics. CoStar, UCLA Anderson Forecast, Zillow, Wikipedia