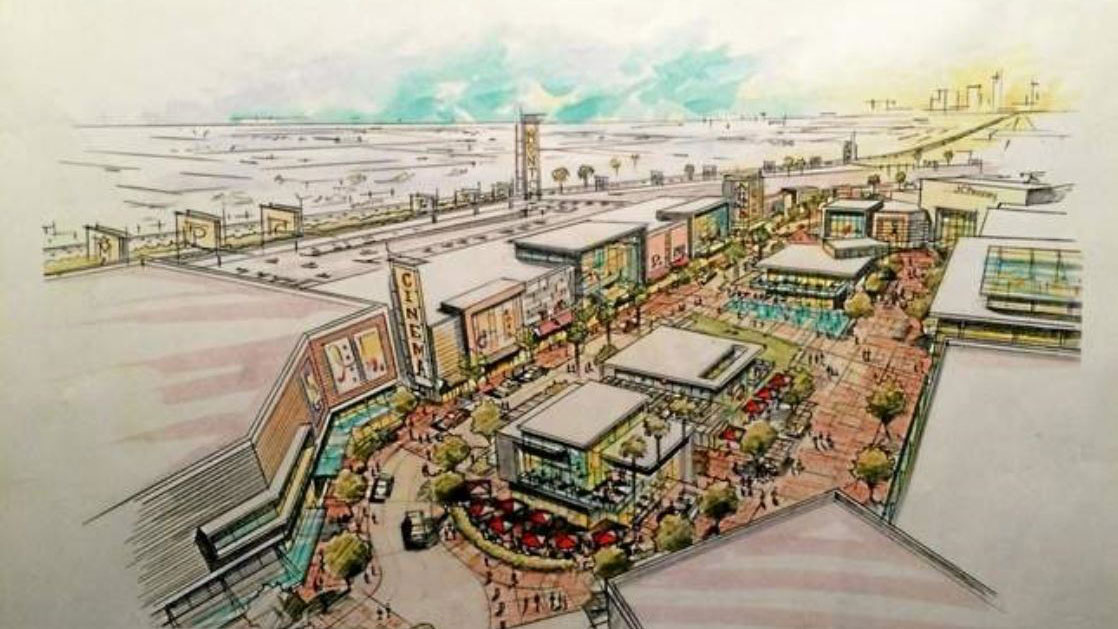 By David Allen, Inland Valley Bulletin
Montclair Plaza's new owners could be breaking ground within weeks on an ambitious makeover of the 1960s mall that by the end of 2016 will bring new stores, outdoor plazas, parking garages and a movie theater.
Conceptual plans for the mall were shown Monday night to the Planning Commission, which gave final approval to the plans and the environmental review.
CIM Group, the Hollywood-based developer who bought the mall last year for a reported $170 million, expects to begin work soon.
"They'd like to get started this summer and be completed with the first phase by the end of 2016," said Steve Lustro, the city's community development director.
Planning commission meetings being far less entertaining than city council meetings, I doubt I had attended one during the 21st century. But I made an exception for Montclair's because the mall plans could be among the most significant developments in the city's history. (In any event, they're more exciting than a zoning variance.)
Montclair Plaza has evolved since its 1968 opening, with the addition of a second story in 1985 being the most dramatic step. But other than some low-key remodels, the mall has remained stuck in the past under indifferent ownership for years, to the frustration of city officials, and maybe shoppers, as first Ontario Mills and then Victoria Gardens changed the game.
Illustrating its importance to Montclair, the mall does more than $240 million in business per year, funneling $2.4 million in sales taxes into city coffers. That constitutes 10 percent of the city's $24.8 million general fund, which pays for basic city services.
The Plaza is "a long-established suburban type enclosed mall with two levels of shopping anchored by traditional department stores," as the staff report by planner Michael Diaz puts it. The goal of the changes, Diaz wrote, is to create "a distinctive urban development" and "a unique and vital urban place."
Its future is outdoors. Under the first phase, and a contemplated second phase that could wrap up in mid-2018, the ocean of asphalt that must have seemed inviting in the 1960s will largely vanish.
Instead, multi-level garages will free up space for outdoor-facing shops, restaurants and places to stroll and gather, all on parking lots to the mall's south, visible from the 10 Freeway.
Based on the renderings, Victoria Gardens is a model, and Lustro also referenced Los Angeles' The Grove, because a street within the new outdoor shopping district will be open to pedestrians only. No trolley, though.