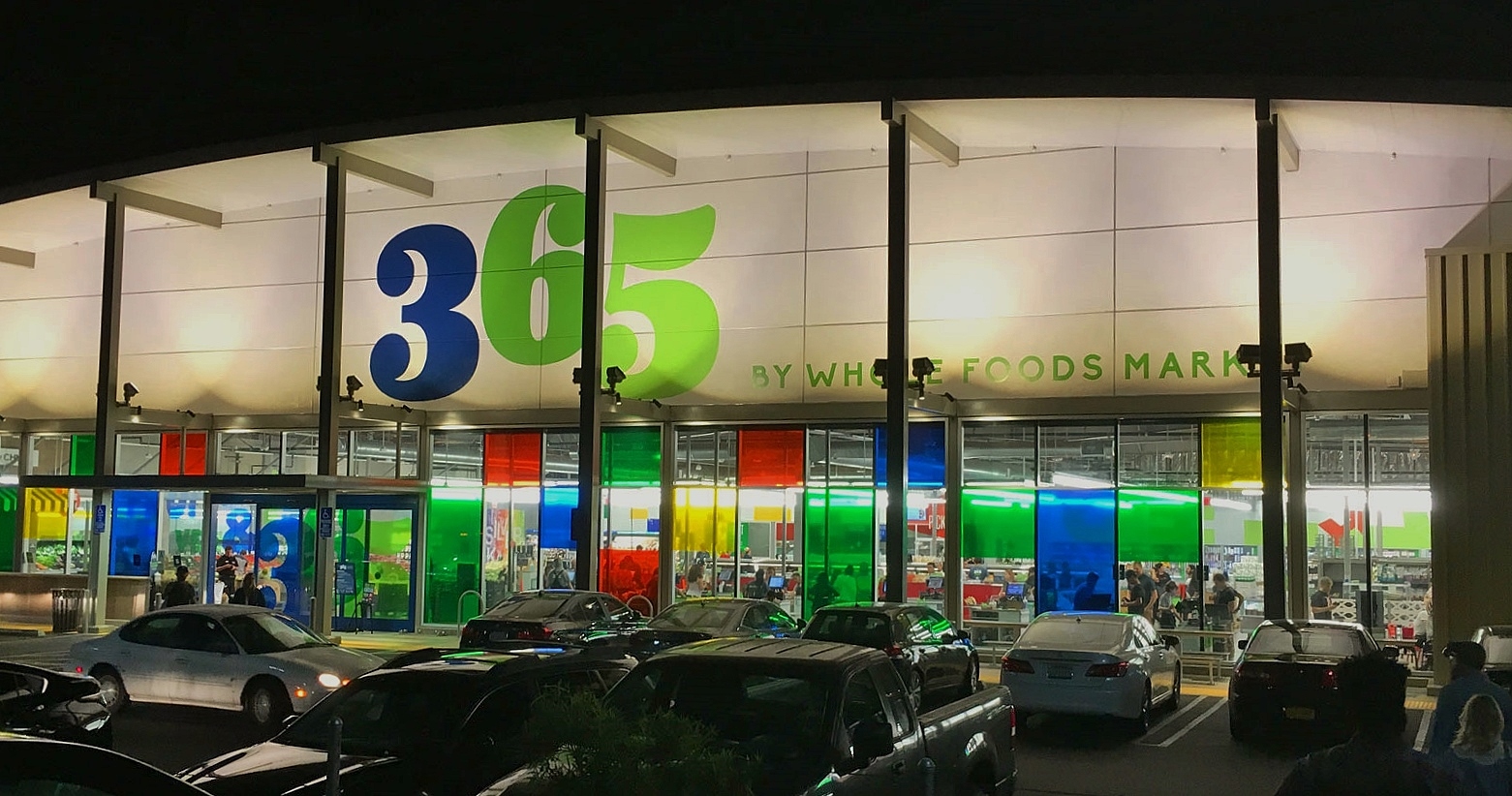 The grocery store business is one of my favorite parts of the retail sector. My wife and I really enjoy visiting new grocery stores when we travel. It is a fun way to see how the stores are presented, the product assortment, and a great opportunity to discover new food items.
So when we heard  Whole Foods was going to be opening one of their smaller format  "365 by Whole Foods" stores about a mile from our Claremont home, we decided we wanted to check one out;  even though the closest store is about 40 miles away in the Silver Lake region of Los Angeles.
We visited the store on a Saturday night (yes, this is what we do on a Saturday night) while driving home from Hollywood. When we arrived we were immediately struck by the brightness of the store with its large windows, incredibly bright interior, and the large colorful exterior signage. We instantly knew that this was going to be different.
Our daughter was with us, and the three of us decided,  that the best way to describe this store is a mixture of  Trader Joe's and Sprouts with a self-serve version of a Lemonade restaurant (one of our favorite restaurants) in the middle.
Some quick highlights of the store from a construction & design perspective:          
Very bright with tons of LED lighting;
High, open ceilings & polished concrete floors;
Wide aisles and very low shelving. I was able to see throughout the store from just about any location. It made it feel like a European market VS a grocery store;
Modern, inviting, and unique store fixtures;
More tech with iPads that customers can use to help shoppers find what they want;
Store is approximately 30,000 square-feet compared to 45,000 square feet for a Whole Foods stores
Merchandising highlights:
According to my wife, the grocery shopping expert, prices were very  reasonable.     Certainly comparable to, or better, than the Vons in our neighborhood. Virtually nothing would be considered "whole wallet".  In addition the store features:
A great produce & vegetable section
Excellent section of frozen foods, nutritional items, and dair
A large percentage of the products were under the "365 Everyday Value" store brand
A substantial portion of the store was dedicated to "meal replacement". There were islands in the middle of the store that included a large salad bar, numerous hot entrees, pizza by the slice, soups, and other items that would allow you to take home an entire "freshly cooked" meal. I know where a lot of my future meals will be coming from.
Great bulk foods section similar to Sprouts, but even expanded. I particularly liked the "Teabot" that had a large selection of loose teas that you can then dispense yourself.
We are definitely excited to have a 365 store open near our home. This store will likely take away sales from traditional grocers (Vons, Albertsons, Ralphs & Staters Bros.), as well as Trader Joes & Sprouts.  However, the store is not likely to impact the Target, Walmart, or Aldi  type stores because although the prices were fair, they certainly were not at the levels that these big-box stores deliver.   If you want to learn more, I'd highly recommend visiting the store or check out their website at www.365bywfm.com.
Save
Save