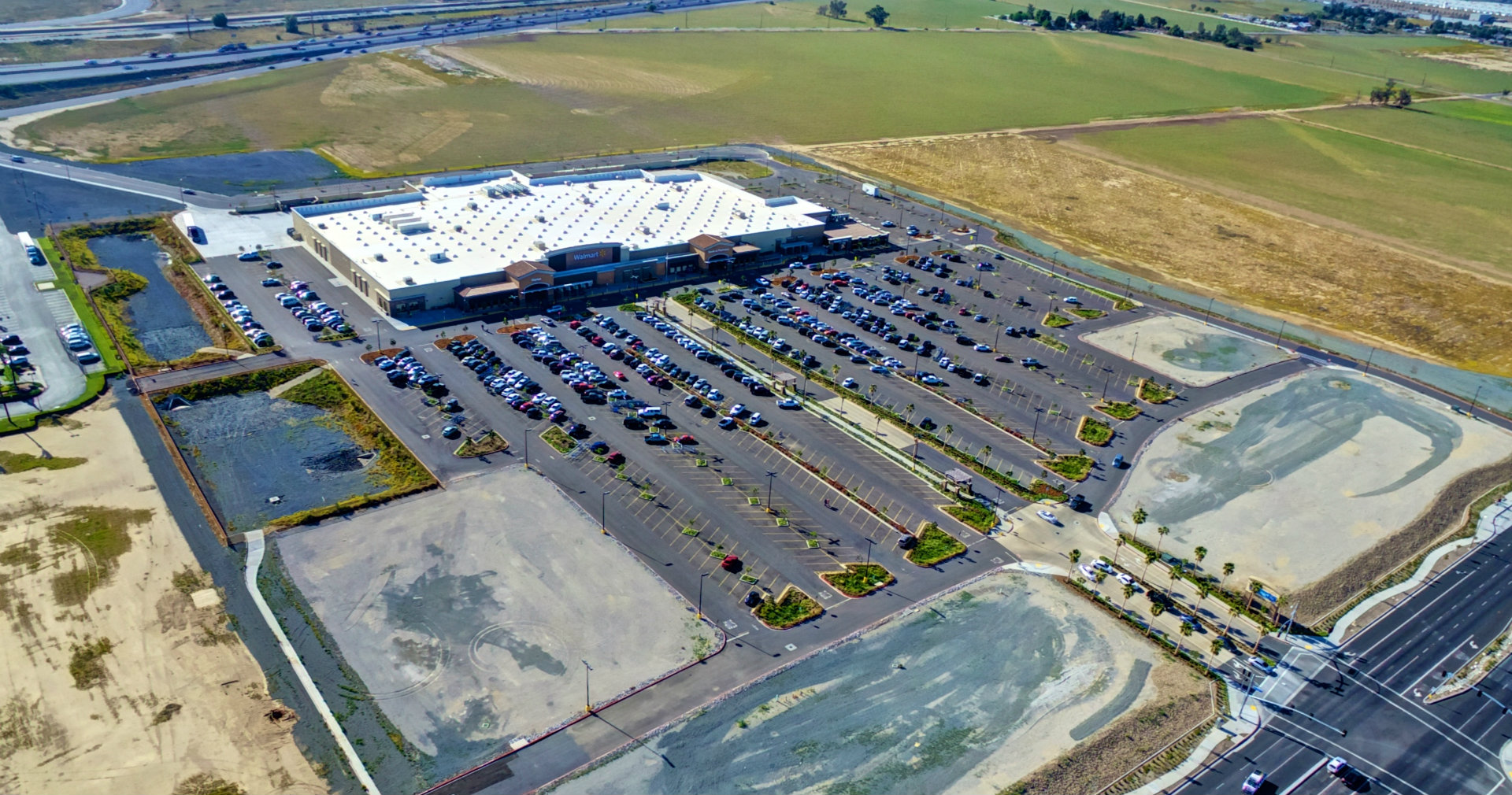 The Eight Leases Total 15,635 SF and Include a Mix of National & Regional Food and Service Users
Ground Breaking Scheduled for Summer 2016 for New Retail Pad & Shop Buildings
Rancho Cucamonga, CA –  May 9, 2016 – Representatives from the recently opened Perris Marketplace announced today the signing of eight new leases totaling 15,635 square feet.  The Super Walmart anchored center is located at 1700 North Perris Blvd. in Perris, CA less than ¼ mile from the heavily traveled I-215 freeway.
Paul Galmarini, Senior Vice President at Progressive Real Estate Partners, represented the developers and owners of the center, Evergreen and Trachman Indevco, in the following transactions:
Chipotle – 2,000 SF
Pacific Dental – 3,000 SF
Pieology – 2,300 SF
Popeyes, 2,500 SF – Freestanding Drive-Thru
T-Mobile – 1,600 SF
Verizon – 1,600 SF
Waba Grill – 1,500 SF
Yogurtland – 1,135 SF
 "We are very excited to welcome these new stores to the Perris Marketplace.  They will be a great addition to the center, which will also include Panda Express and Wendy's,  and will enhance the overall shopping experience for our customers," according to Andy Trachman, President of Trachman Indevco.
Principal, Chris Bergren of Evergreen, stated, "Evergreen has been very encouraged by the interest of so many top quality users and emphasized that more announcements will be forthcoming shortly."
The free-standing drive thru pad and the two shop buildings that will be home to the new stores are scheduled to break ground in early summer 2016 with all eight retailers projected to open in late 2016 and early 2017.   The four remaining spaces in the two shop building (totaling 7,004 square feet) are currently in lease negotiations and are expected to be executed within the next 30 days demonstrating the strong demand for newly constructed space in well-anchored shopping centers like the Perris Marketplace.
"The combination of the regional location, Walmart co-tenancy and brand new construction generated a significant amount of interest in the center and made it a highly desirable location for these stores," according to Paul Galmarini, Senior Vice President at Progressive Real Estate Partners.  He added "Furthermore, there is significant pent-up demand and stiff competition between retailers for space in new "best in class" centers that are well-located and well-anchored in Southern California's Inland Empire region. Perris Marketplace was able to deliver exactly the type of space these retailers desired."
The center features outstanding visibility on Perris Blvd., has a new signalized entrance and is located in the primary retail and entertainment hub of Perris.  Neighboring retailers include Regency Theatres, Food 4 Less, Stater Brothers, Rite Aid and Big 5 Sporting Goods. At build-out the popular community center will be approximately 220,000 square-feet.  In addition Perris Marketplace enjoys strong demographics with over 105,000 people residing in a 5-mile radius with an average household income in excess of $68,000.
Trachman Indevco, LLC is a real estate investment and development company headquartered in Los Angeles, CA.  The company specializes in new ground-up retail development and on retail development/repositioning opportunities in Southern and Central California.  Trachman Indevco was founded on the principle that success is defined by the contributions that Trachman projects make to the communities in which they are located over the long term.  The company is led by Andy Trachman, founder and president.   For further information visit www.trachmanindevco.com.
Founded in 1974, Evergreen has offices in Los Angeles, Phoenix and Denver.  Evergreen is a fully diversified real estate company with deep experience in retail, commercial and multi-family development, asset management, property management and leasing.  Evergreen has completed more than 500 development projects across the United States in more than 175 municipalities. For further information visit www.evgre.com.
 About Progressive Real Estate Partners
Progressive Real Estate Partners (PREP) is a boutique commercial brokerage firm headquartered in Rancho Cucamonga, California. Founded in 2008, the firm specializes in the leasing and sale of retail properties in Southern California's Inland Empire market.  The office is also the exclusive Inland Empire representative of the Retail Brokers Network (RBN). Since the firm's inception Progressive has completed over 500 lease and sales transactions in over 35 cities throughout the region. Progressive uses the latest marketing and brokerage techniques to help retailers and property owners achieve their real estate goals. PREP is led by Brad Umansky, founder and president. For further information visit www.progressiverep.com.