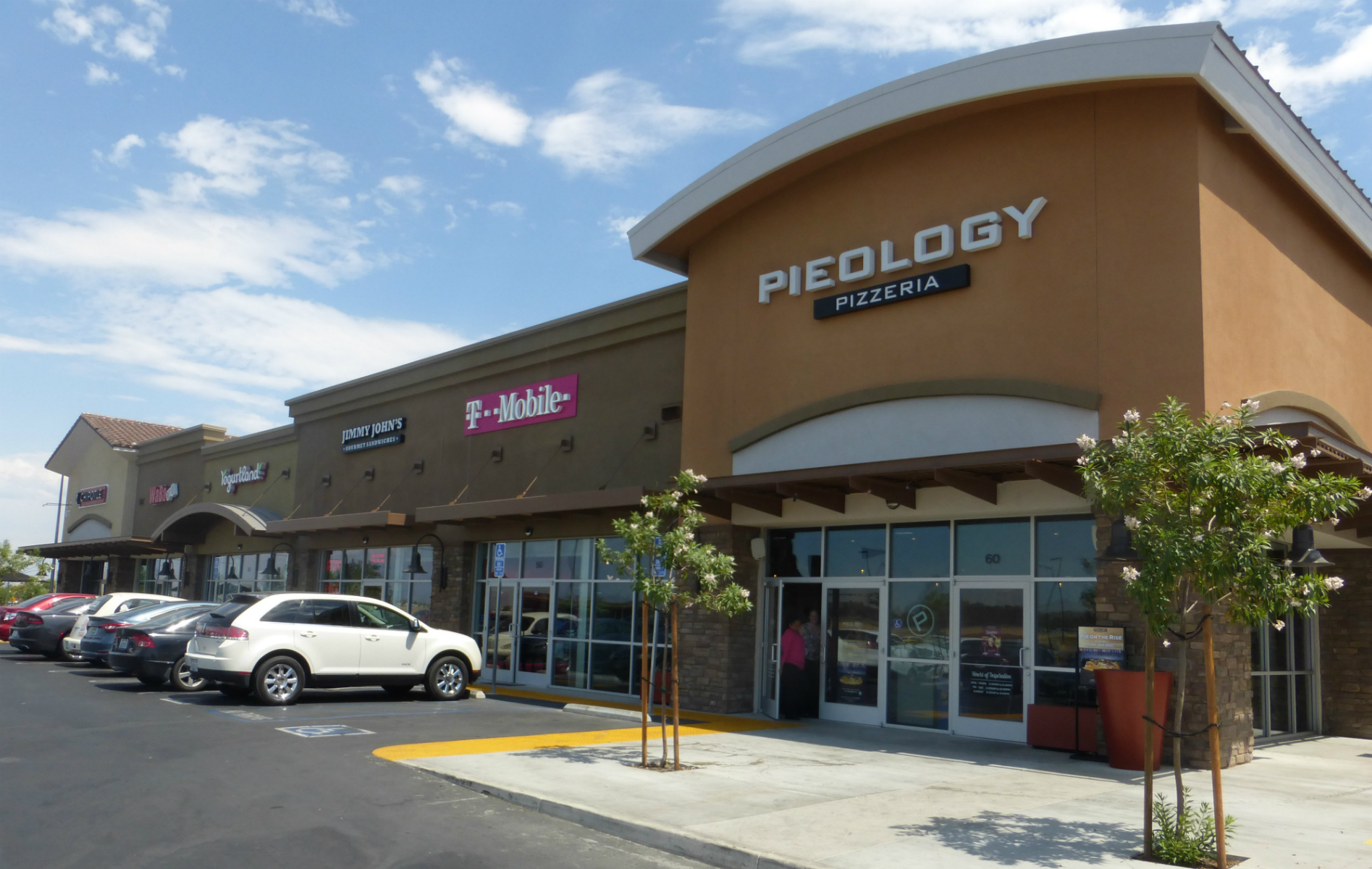 Rancho Cucamonga, CA –  September 6, 2017 – Representatives announced today that Perris Marketplace is 100% leased with the recent signing of deals with Baskin Robbins, Jamba Juice and Daniel's Jewelers. The 225,000 square-foot Super Walmart anchored center is located at 1700 North Perris Boulevard in Perris, CA less than ¼ mile from the heavily traveled I-215 freeway.
Progressive Real Estate Partners brokers Paul Galmarini, Senior Vice President, and Gretchen Lastra, Senior Retail Specialist, represented the owner/developers Trachman Indevco and Evergreen in the recent transactions and lease-up of the new center.
All totaled Galmarini and Lastra arranged leases with 19 regional and national retailers representing 32,856 square-feet of shop and pad space to bring the center to 100% leased.  The center was originally planned to only include two shop buildings but, due to the high demand, a third 12,580 square-foot shop building was added to accommodate the interest.  The impressive line-up of retailers includes a variety of popular food and service users including Starbucks, Popeye's, Pieology, Chipotle, Yogurtland, Dickey's BBQ, America's Best Contacts and Eyeglasses, Pacific Dental and Sally Beauty.
Following the opening of Super Walmart in 2015, construction commenced on the pad and shop buildings in 2016.  Approximately 80% of the stores have already opened with the balance expected to host their grand openings by year end.
The center features outstanding visibility on Perris Boulevard, has a new signalized entrance and is located in the primary retail and entertainment hub of Perris with over 500,000 square-feet of retail at the intersection.  Neighboring retailers include Regency Theatres, Food 4 Less, Stater Brothers, Rite Aid and Big 5 Sporting Goods. Nearly 115,000 people reside within a 5-mile radius of the center with an average household income of over $59,000.  In addition, the City of Perris is experiencing significant growth with more than 4,000 new homes recently built and an additional 8,000 residences in the pipeline.
"Perris Marketplace is one of the best positioned and highest profile regional retail sites in Riverside County.  The combination of the location, Super Walmart anchor and brand new construction generated a significant amount of interest in the center and made it a highly desirable location for these stores," according to Paul Galmarini, Senior Vice President at Progressive Real Estate Partners.  He added "Furthermore, there is significant pent-up demand and stiff competition between retailers for space in new "best in class" centers that are well-located and well-anchored in Southern California's Inland Empire region. Perris Marketplace was able to deliver exactly the type of space these retailers desired."
According to Andy Trachman, President of Trachman Indevco,"We are extremely proud of getting Perris Marketplace 100% leased and thrilled to welcome such a fine roster of retailers to the center.  It is a huge milestone and reflects the strength of the City of Perris and the Inland Empire region."  Chris Bergren, Principal of Evergreen added, "It has been a pleasure to work with Paul and Gretchen on the lease-up. They did an excellent job attracting a line-up of stores that will provide great new retail choices for the community."
About Trachman Indevco
Trachman Indevco, LLC is a real estate investment and development company headquartered in Los Angeles, CA.  The company specializes in new ground-up retail development and on retail development/repositioning opportunities in Southern and Central California.  Trachman Indevco was founded on the principle that success is defined by the contributions that Trachman projects make to the communities in which they are located over the long term.  The company is led by Andy Trachman, founder and president.   For further information visit www.trachmanindevco.com.
About Evergreen
Founded in 1974, Evergreen has offices in Los Angeles, Phoenix, Denver and Salt Lake City.  Evergreen is a fully diversified real estate company with deep experience in retail, commercial and multi-family development, asset management, property management and leasing.  Evergreen has completed more than 500 development projects across the United States in more than 175 municipalities. For further information visit www.evgre.com.
About Progressive Real Estate Partners
Progressive Real Estate Partners (PREP) is a boutique commercial brokerage firm headquartered in Rancho Cucamonga, California. Founded in 2008, the firm specializes in the leasing and sale of retail properties in Southern California's Inland Empire market.  The office is also the exclusive Inland Empire representative of the Retail Brokers Network (RBN). Since the firm's inception Progressive has completed over 500 lease and sales transactions in over 35 cities throughout the region. Progressive uses the latest marketing and brokerage techniques to help retailers and property owners achieve their real estate goals. PREP is led by Brad Umansky, founder and president.