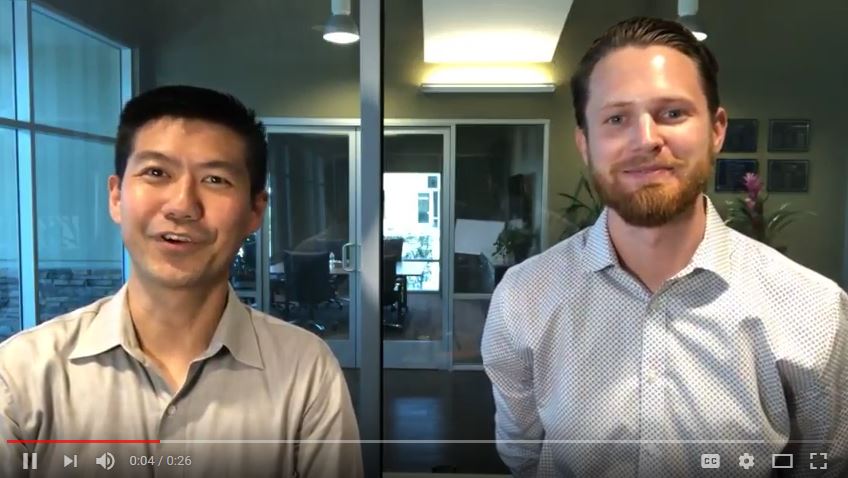 [vc_row][vc_column][vc_column_text]
Pitch Videos Drive Maximum Exposure & Maximum Value
[/vc_column_text][vc_empty_space][vc_video link="https://youtu.be/mf9_HHInjWU"][vc_empty_space][vc_column_text el_class="body-text-block" css=".vc_custom_1524598043634{padding-right: 1em !important;padding-left: 1em !important;}"]
Everybody is talking about the importance of technology and video these days and the team at Progressive Real Estate Partners is proud to be at the forefront of utilizing these tools to improve our clients' bottom line. As part of those efforts, two of our top investment sales brokers, Greg Bedell, CCIM and Mike Lin featured in the video above, are amongst the first in the industry using "Pitch Videos" on behalf of their clients.  These 60 to 90 second videos have proven to dramatically increase activity, ultimately leading to more offers and higher closing prices in many cases. We chatted with Greg and Mike to find out more and here's what we learned:  
1. There are a lot of different types of videos that are being shared these days to highlight commercial real estate listings including photo carousels, drone footage, etc.  What is the advantage and the difference between the "Pitch Videos" that you're creating compared to the other types of videos?
The majority of videos being used today are simple drone videos with background music or photos with bullet points. While this may be an effective way to communicate some of the facts, we found that it doesn't really "sell" the deal. We also found that it was hard to stay engaged with these videos for more than 20 to 30 seconds. Our "Pitch Videos" take it to the next level and keep viewers engaged by "telling the story" about the property and why it's a good investment.  We do this by incorporating an elevator pitch delivered by the actual broker(s) marketing the deal. Being in front of the camera gives a personal touch, so the buying community knows who they will be dealing with when they decide to pick up the phone or send an email to inquire about the property.  Bottom line it's a more personal way of delivering the facts while helping a buyer (or their broker) wrap their arms around the deal as quickly as possible.
2.  What was your inspiration to create Pitch Videos?
There are so many properties for sale today that prospective buyers are getting inundated with emails.  Rather than assume someone will click through, download an offering memorandum, and take the time to dissect and understand the deal— the Pitch Video aims to remove that assumption and takes the message straight to the buyer.  We wanted to create a marketing tool that would cause our properties to stand out from the rest, while also providing an easy way for buyers (and their brokers) to understand the highlights of the property.  This is particularly important for 1031 exchange buyers who tend to look at dozens, if not a couple of hundred properties before making a decision.
3.  What types of visuals and content are included in the video?
We have incorporated professionally shot photos of the property, investment highlights, regional maps, aerials and tenant logos for the featured property and surrounding retailers.  One of our best visual tools is drone footage. With the drone, we are able to show the property and its surrounding areas in motion including even hovering over an intersection to create a time-lapse to demonstrate high traffic counts.  To cap it off we develop a custom script so the viewer can easily follow along and hear the story/pitch while watching the video in much the same way it would be if we were pitching the listing directly to someone in person or by phone.
4.  Does the property owner have to arrange for any of the film footage/visuals or does Progressive take care of acquiring the content?
We handle everything from procuring the photos, getting great drone footage, filming a professional pitch, and editing. The property owner doesn't have to get involved at all. This is just another part of the Progressive difference. 
5.  How has using video impacted response to your retail property investment listings?
We've seen a lot of success from creating these videos.  Click through rates on our "Pitch Video" email campaigns are noticeably higher than our typical emails which has led to increased inquiries, more offers, and higher selling prices in many cases.  We put "Video" right in the subject line of the email to help differentiate it from other emails arriving in someone's inbox.  The videos have also been effective in reinvigorating interest in a property that has been on the market for a while with low activity.  We are big believers that maximum exposure leads to maximum offers, which leads to maximum value for the seller. For example, we recently marketed a non-credit single tenant deal in an off-the-beaten path area. This was not a "pretty" deal. We implemented a Pitch Video right from the get go and ultimately procured a total of 7 offers and closed at asking price. 
In closing, if you're in the market to sell a retail property and you'd like to view a demo and learn more about how a "Pitch Video" will make your property listing stand out give Greg Bedell, CCIM or Mike Lin at Progressive Real Estate Partners a call at 909.230.4500.
[/vc_column_text][/vc_column][/vc_row]