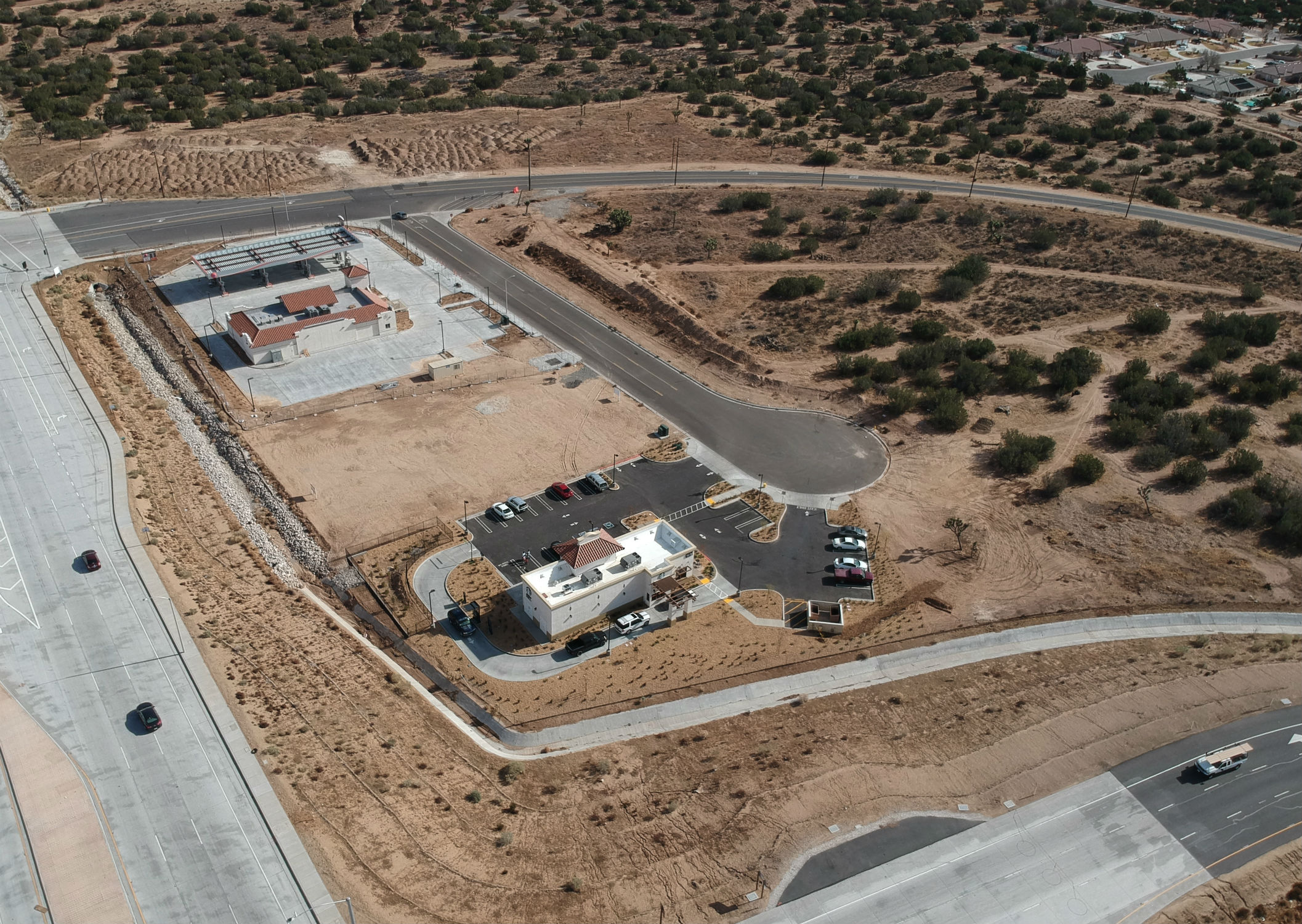 The I-15 freeway adjacent land parcels are located in the High Desert Region of SoCal's Inland Empire
Rancho Cucamonga, CA – February 5, 2018 – Progressive Real Estate Partners, a leading Inland Empire retail investment sales brokerage, announced today the sale of two parcels of land to Circle K and Chevron for a combined total of $4.8 million.  Both properties are located adjacent to the heavily traveled I-15 Freeway in the High Desert region of SoCal's Inland Empire market.
Pablo Velasco, Senior VP of Leasing and Sales at Progressive Real Estate Partners, exclusively marketed the properties and represented the private investor sellers in both transactions:
Circle K – 15 Freeway and Nisqualli Road, Victorville, CA – Circle K purchased the land for $2.85M in an all cash transaction and plans to build a full service convenience store, gas station and car wash on the 3-acre parcel. The development is projected to open in mid-2018.  The land is ideally situated adjacent to the recently opened Nisqualli exit off the 1-15 freeway with a daily average traffic count of 163,000.  Progressive Real Estate Partners is also currently marketing a 1-acre parcel next to Circle K which is perfectly suited for a drive-thru restaurant, tire store or auto service user.
Chevron – 15 Freeway and Ranchero Road, Hesperia, CA – A multi-store Chevron franchisee purchased the 1.2 acre freeway adjacent parcel for $1.95M. The parcel is part of the Ranchero Crossings development located at the new Ranchero Road off-ramp which is the first northbound exit on the I-15 in Hesperia and is right before the fork to Las Vegas on the I-15 or Mammoth on US 395.   The Chevron station will also include a convenience store and car wash and is projected to open in mid-2018.  In addition to Chevron, Ranchero Crossings also features a newly opened drive-thru Starbucks and a 76 Service Station with a Circle K Convenience store plus five other parcels ranging in size from .75 to 45 acres that are currently being marketed by Progressive Real Estate Partners.  The remaining parcels are ideally suited to accommodate a large shopping center, entertainment venue or medical facilities.   A number of new developments are planned in the trade area including Tapestry which is an approximately 16,000 unit master planned residential community.
According to Velasco, "The I-15 is a major freeway connecting Riverside and San Bernardino Counties to the High Desert and Las Vegas. This was an excellent opportunity for Circle K and Chevron to acquire freeway adjacent parcels and expand their presence in the High Desert." He added, "The High Desert region of SoCal's Inland Empire is in the midst of a population and building boom and we expect to see continued growth and demand for new retail and service options in the region."
About Progressive Real Estate Partners
Progressive Real Estate Partners (PREP) is a boutique commercial brokerage firm headquartered in Rancho Cucamonga, California. Founded in 2008, the firm specializes in the leasing and sale of retail properties in Southern California's Inland Empire. The firm is also the exclusive Inland Empire representative of the Retail Brokers Network (RBN).   Since the firm's inception Progressive has completed over 750 lease and sales transactions in over 35 cities throughout the region.  Progressive uses the latest marketing and brokerage techniques to help retailers and property owners achieve their real estate goals.   The firm is led by Brad Umansky, founder and president.