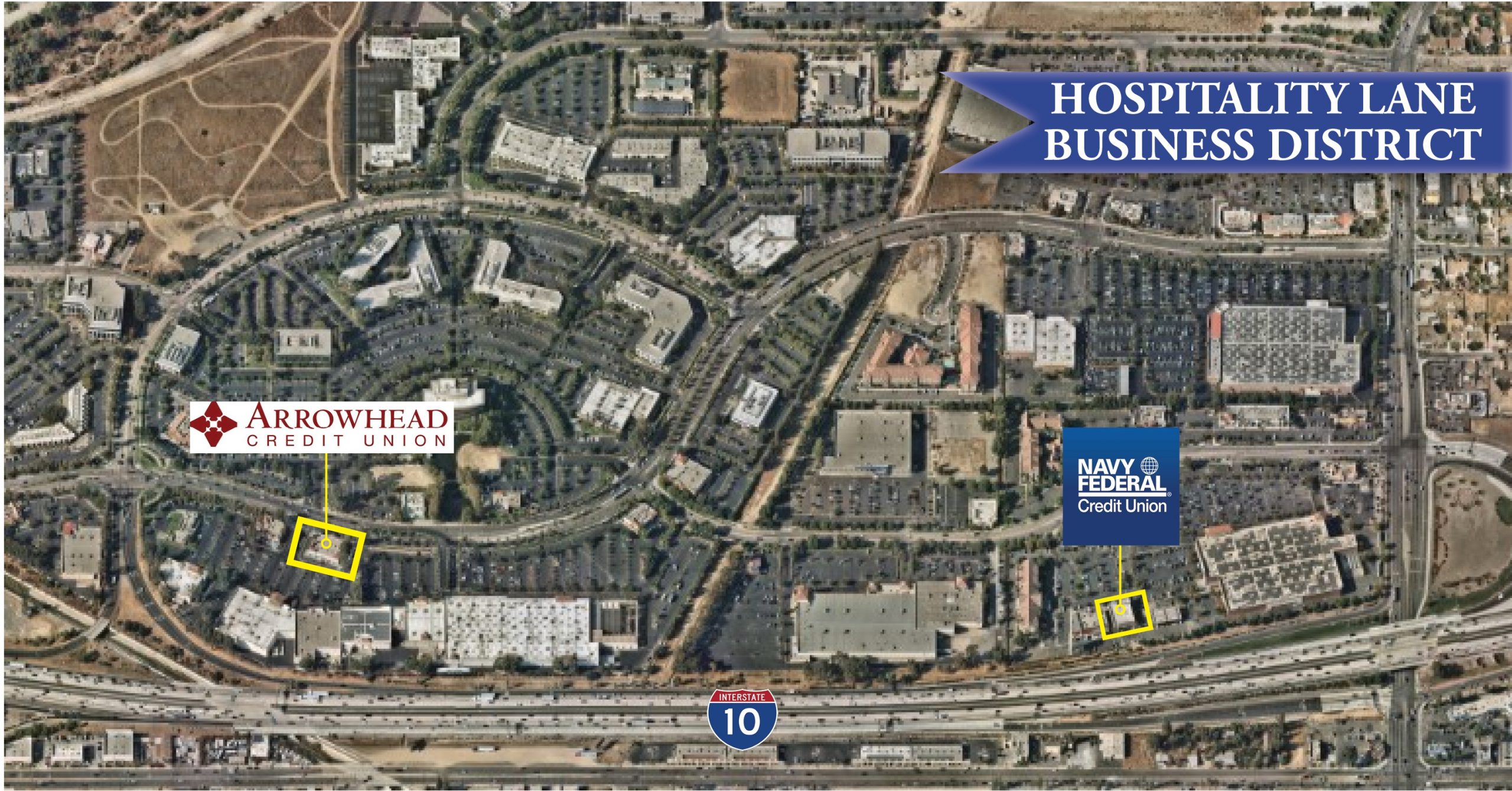 Navy Federal Credit Union & Arrowhead Credit Union will be Opening in the Hospitality Lane Business District in San Bernardino, CA Later this Year
Rancho Cucamonga, CA – May 4, 2020  – Progressive Real Estate Partners, the leading Inland Empire retail brokerage, announced today the signing of leases with Navy Federal Credit Union (6,040 sf) and Arrowhead Credit Union (7,433 sf) for locations in the Hospitality Lane Business District in San Bernardino, CA. The signings reflect a nationwide trend away from traditional retail to service uses as well as the growing popularity of credit unions which typically offer more personalized service and competitive rates. Both tenants are expected to open before year-end.
Progressive Real Estate Partners Senior VP Paul Galmarini exclusively marketed the properties and represented the private-party lessors in the transactions.  Greg Martin from Lee & Associates represented Arrowhead Credit Union and Kien Tsoi of JLL represented Navy Federal Credit Union.
The popular Hospitality Lane District enjoys a regional draw with over 5 million square-feet of retail, dining, office, hospitality and educational uses and is adjacent to the heavily-travelled I-10 freeway with traffic counts of over 200,000 cars per day.  Furthermore, the area is densely populated with over 229,000 residents and a daytime population of more than 136,000 employees in a 5-mile radius.
Navy Federal Credit Union will open at  1049 E. Harriman, San Bernardino, CA (formerly Mattress Firm) in a freestanding building located between Sam's Club and BJs Restaurant.  Navy Federal serves over 9 million members and is open to all branches of the military, the Department of Defense, veterans, civilian and contractor personnel along with their families. The member-owned not-for-profit credit union has a global network of over 343 branches.
Arrowhead Credit Union signed a lease at 575 E. Hospitality Lane, San Berna
rdino, CA (formerly Banner Mattress) for a freestanding building at the main entrance of a center anchored by LA Fitness, Aldi, HomeDepot and PetSmart.  Founded in 1949 in San Bernardino County, the credit union has expanded its membership base to include anyone who lives, works or worships in the Inland Empire or select cities in southern LA County, Arizona and Nevada; as well as anyone employed by the State of California. The not-for-profit financial cooperative currently has 18 full service branches primarily in the Inland Empire.
According to Galmarini, "The two locations are high-profile freestanding pads in well anchored centers with plenty of parking and excellent freeway signage." He added, "Both Navy Federal and Arrowhead are well-established credit unions and these new branches will provide their local members with convenient access and be a welcome addition to the Hospitality Lane Business District tenant mix."
 About Progressive Real Estate Partners
Progressive Real Estate Partners (PREP) is a boutique commercial brokerage firm headquartered in Rancho Cucamonga, California. Founded in 2008, the firm specializes in the leasing and sale of retail properties in Southern California's Inland Empire market.  The office is also the exclusive Inland Empire representative of the Retail Brokers Network (RBN). Since the firm's inception Progressive has completed over 1,000 lease and sales transactions in over 35 cities throughout the region. Progressive uses the latest marketing and brokerage techniques to help retailers and property owners achieve their real estate goals.