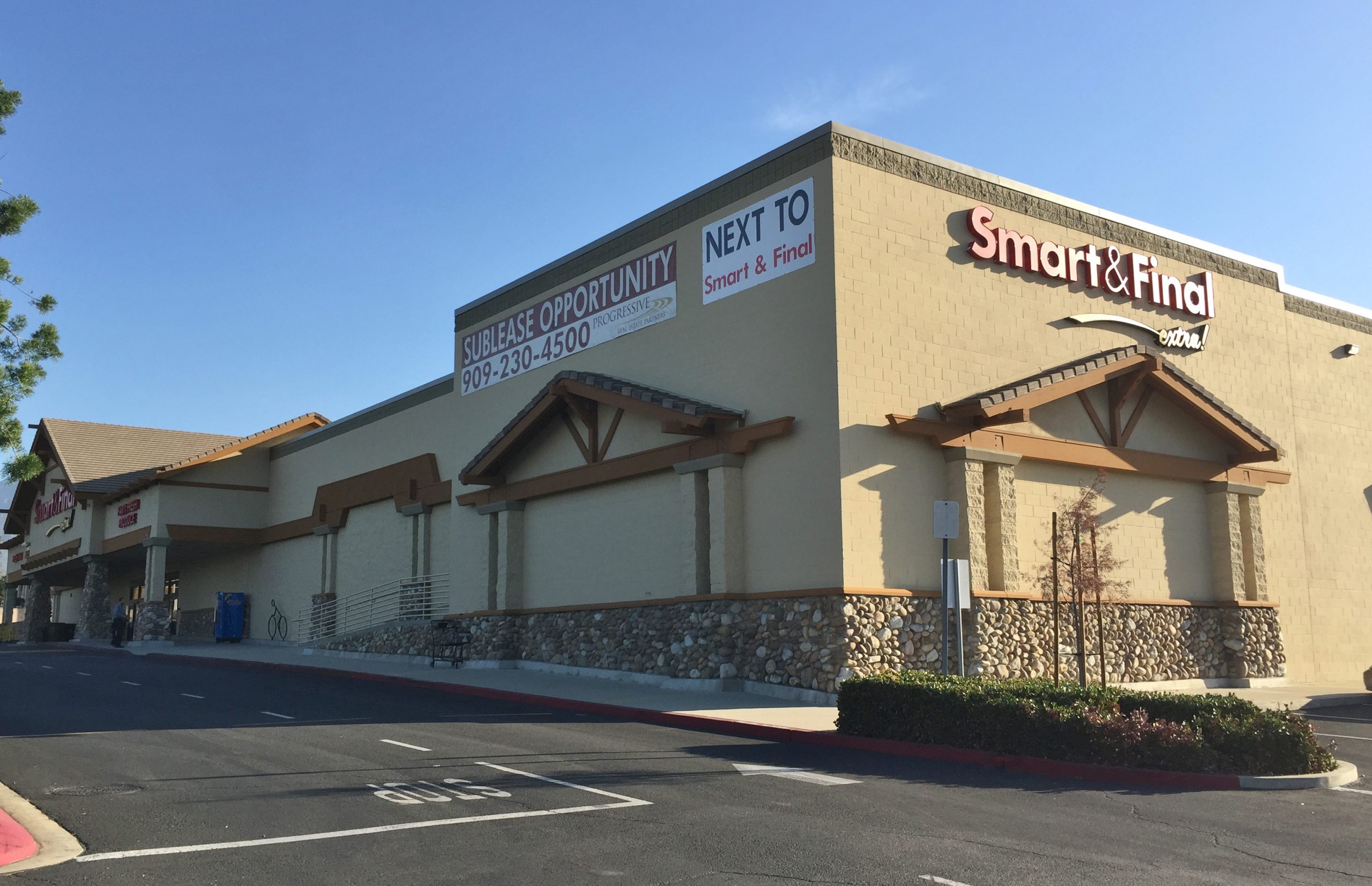 Rancho Cucamonga, CA – December 13, 2016 – Progressive Real Estate Partners, a leading Inland Empire retail brokerage firm,  announced today that it has executed a sub-lease with Planet Fitness for a 21,178 square-foot retail space adjacent to Smart & Final Extra! at 1028 North Mountain Avenue in Upland, California.  The Smart & Final anchored shopping center fronts Foothill Blvd. which is a major retail corridor thru the cities of Upland, Claremont and Rancho Cucamonga.
Progressive Real Estate Partners retail expert Pablo Velasco exclusively marketed the property and represented Smart & Final in the transaction and Lauren Dressler with Oak Place Partners represented Planet Fitness.
The well-established center is ideally situated at a busy four-way signalized intersection and has excellent signage and visibility on both Mountain Avenue and Foothill Boulevard, with a combined daily traffic count of over 57,000 cars.  Neighboring national retailers include Walgreens, Stater Bros., Big Lots, Bank of America, Chipotle, KFC, Subway, Starbucks and The Habit Burger & Grill. The dense in-fill location also enjoys excellent demographics with over 386,000 residents with an average household income of more than $78,800 within a 5-mile radius.  Furthermore, there is a strong daytime population of 126,000+ employees within a 5-mile radius.
Planet Fitness is one of the largest and fastest growing operators of fitness centers in the US with over 1,200 locations and more than 8.7 million members.  Planet Fitness is known for its affordable $10 a month standard membership plan and commitment to a welcoming, non-intimidating environment called the "Judgement Free Zone".  The new location is expected to open in mid to late 2017 and will feature a wide selection of high-quality, Planet Fitness-branded cardio, circuit and weight-training equipment.
"Some retailers prefer not to be next to fitness centers, primarily due to parking concerns, but Smart & Final has found it to be a complimentary use within their portfolio and they are excited to welcome Planet Fitness to the center.  Planet Fitness will be making a substantial investment to update the space to accommodate the fitness center including adding a completely new entrance to create their own identity within the center," according to Pablo Velasco, VP of Leasing and Sales Division at Progressive Real Estate Partners.  "The co-tenancy, strong demographics, excellent location and great visibility were all very attractive to Planet Fitness making this a perfect location for them to expand," Velasco added.
About Progressive Real Estate Partners
Progressive Real Estate Partners (PREP) is a boutique commercial brokerage firm headquartered in Rancho Cucamonga, California. Founded in 2008, the firm specializes in the leasing and sale of retail properties in Southern California's Inland Empire market.  The office is also the exclusive Inland Empire representative of the Retail Brokers Network (RBN). Since the firm's inception Progressive has completed over 500 lease and sales transactions in over 35 cities throughout the region. Progressive uses the latest marketing and brokerage techniques to help retailers and property owners achieve their real estate goals. PREP is led by Brad Umansky, founder and president.