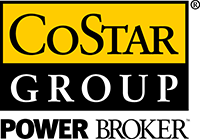 Annual CoStar Power Broker Awards Recognizes Top Firms and Brokers in Commercial Real Estate
Two Progressive Real Estate Partners Brokers Recognized as Top Retail Leasing Brokers in the Inland Empire
RANCHO CUCAMONGA, CA – April 23, 2014 – For the third consecutive year, Progressive Real Estate Partners has been named among the Inland Empire's Top Leasing Firms by the CoStar Group.  The annual Power Broker Awards recognizes the "best of the best" in commercial real estate brokerage by highlighting the U.S. firms and individual brokers who closed the highest transaction volumes in commercial property sales or leases in 2013 in their respective markets. According to Brad Umansky, founder and president of Progressive Real Estate Partners, "We are honored to be recognized by CoStar for the third consecutive year as a Top Leasing Firm in the Inland Empire.  Our continued success reflects our exceptional market knowledge and expertise which enables us to consistently deliver outstanding results for our clients.  I'm also extremely proud of our team of talented professionals who helped us earn this award through their hard work and dedication". Additionally, two brokers from Progressive Real Estate Partners received individual CoStar Power Broker Awards.  Janine Peltier and Pablo Velasco were both recognized as Top Retail Leasing Brokers in the Inland Empire. "CoStar is proud to honor the individual brokers and firms who perform at the industry's highest level each year," said CoStar Group founder and CEO Andrew C. Florance in an awards statement. "These industry leaders deserve to be recognized for their expertise, hard work and superior deal-making abilities. We extend our congratulations to this year's winners on their exceptional sales and leasing success." In 2013, Progressive completed more retail transactions in the Inland Empire than any other brokerage office.   "With the economy improving we're looking forward to an even better year in 2014" Umansky stated.  The firm currently has over 120 retail lease and for sale listings in the Inland Empire. About CoStar Group Headquartered in Washington, DC, CoStar Group (NASDAQ: CSGP) is the primary provider of websites for commercial real estate information, analytics and marketing services. Founded in 1987, CoStar conducts ongoing research to produce and maintain the largest and most comprehensive database of commercial real estate information. To learn more visit www.costar.com. About Progressive Real Estate Partners Progressive Real Estate Partners is a boutique commercial brokerage headquartered in Rancho Cucamonga, California. Founded in 2009, the firm specializes in the leasing and sale of retail properties in Southern California's Inland Empire and San Gabriel Valley regions. Since the firm's inception Progressive has completed over 300 lease and sales transactions in over 35 cities throughout the two regions. Progressive uses the latest marketing and brokerage techniques to help retailers and property owners achieve their real estate goals. The firm is led by Brad Umansky, founder and president. For further information visit www.progressiverep.com. You can also follow Progressive Real Estate Partners on Linkedin, Twitter (@Progressive_REP) or Facebook (facebook.com/ProgressiveRealEstatePartners).