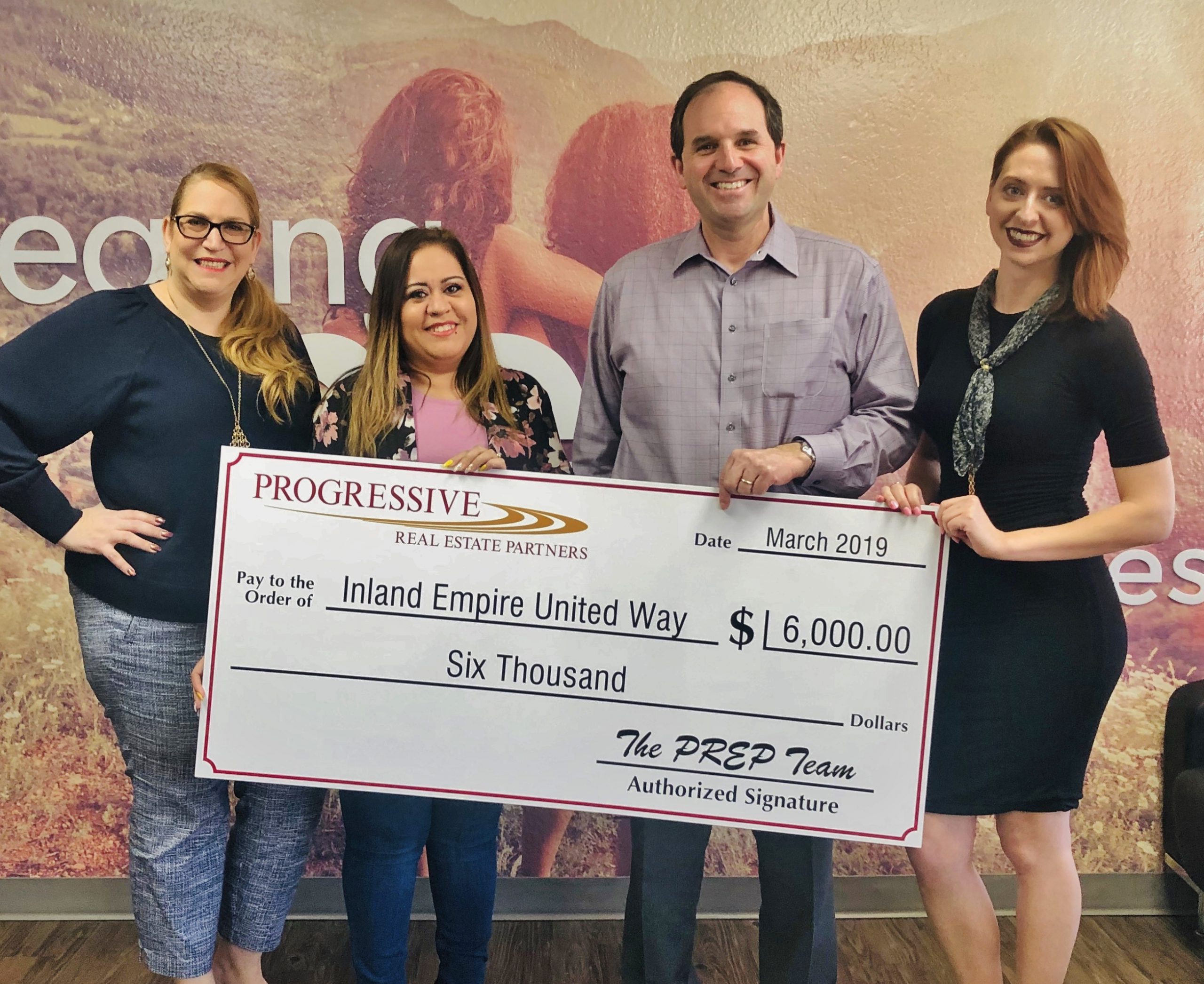 Rancho Cucamonga, CA – April 5, 2019 –   Representatives from Progressive Real Estate Partners presented a check for $6,000 to the Inland Empire United Way (IEUW) last week. The funds will go toward the United Way's annual fundraising efforts to support programs and organizations that improve the lives and futures of Inland Empire children and families by investing in education, health and financial stability.
During the most recent grant period the IEUW awarded grants totaling $566,000 to 45 local non-profit agencies serving the Pomona Valley and the West End, East Valley, and High Desert areas of San Bernardino County.  The grants cover a variety of needs including after-school programs, counseling programs, food security programs, homeless shelters, college and career readiness programs, and financial security programs. Contributions "given local stay local" and an impressive 88% of every dollar is invested in direct program activities.
According to Brad Umansky, President of Progressive Real Estate Partners, "We are proud supporters of the Inland Empire United Way because they provide so many important services to the region where we also do business. Furthermore, their focus on programs and organizations that empower children to adults with the tools they need to be independent and successful in life matches well with our company values."  He added, "Progressive Real Estate Partners is committed to being a good corporate citizen and doing our part to make a positive impact on the Inland Empire."
About Progressive Real Estate Partners
Progressive Real Estate Partners (PREP) is a boutique commercial brokerage firm headquartered in Rancho Cucamonga, California. Founded in 2008, the firm specializes in the leasing and sale of retail properties in Southern California's Inland Empire. The firm is also the exclusive Inland Empire representative of the Retail Brokers Network (RBN).   Since the firm's inception Progressive has completed over 1,000 lease and sales transactions in over 35 cities throughout the region.  The firm is led by Brad Umansky, founder and president. For further information visit www.progressiverep.com.
 Pictured Above from Left to Right: Shirli Driz, Acting President/CEO of IEUW, Gigi Rosiles, Broker Services Manager & Brad Umansky, President both from Progressive Real Estate Partners & Serena Chapman, Development Manager at IEUW