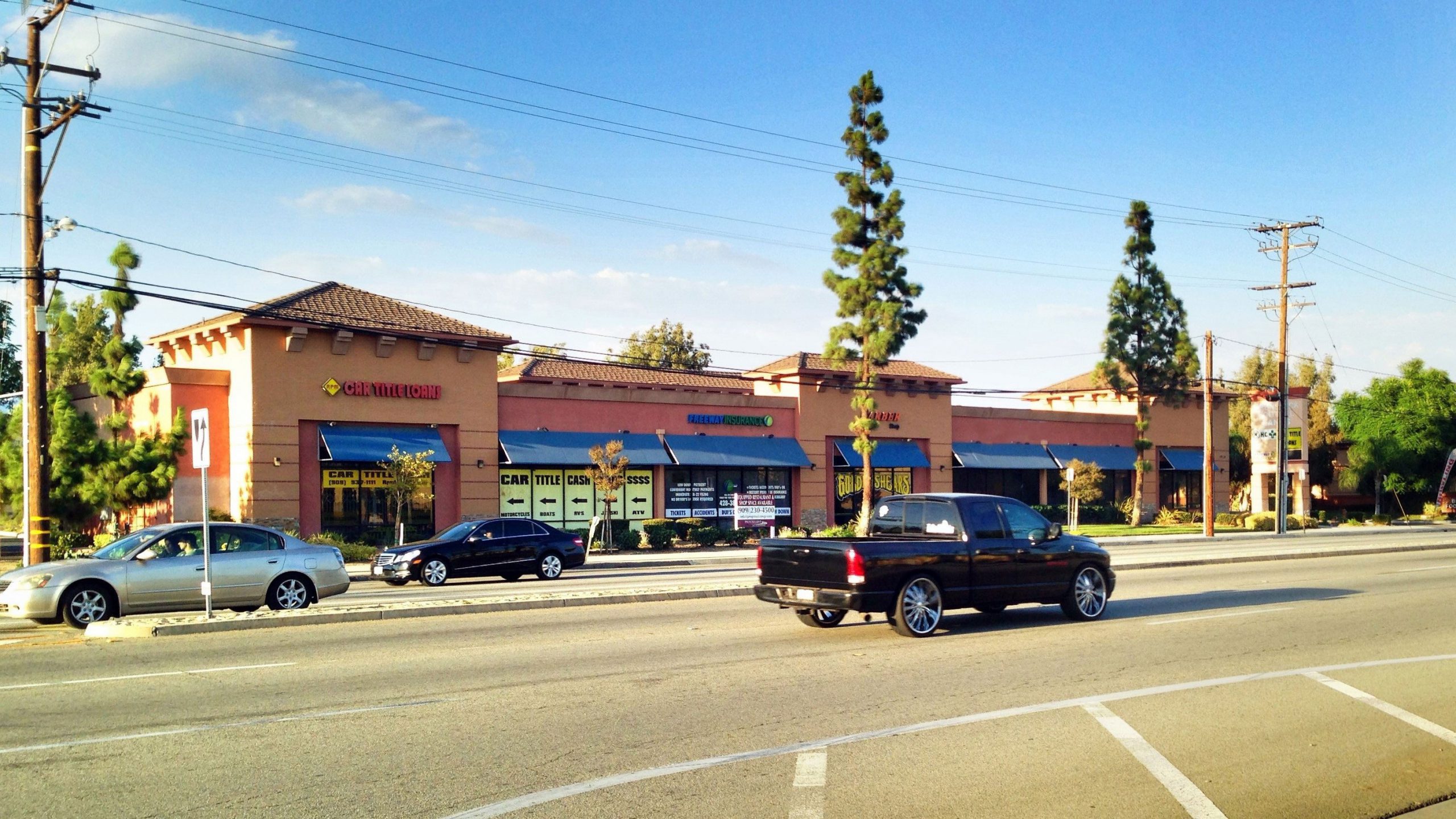 Rancho Cucamonga, CA – January 26, 2015 – Progressive Real Estate Partners announced today the sale of a 7,194 square-foot retail center. The fully leased center was sold in an all cash transaction for $2.65 million ($368 psf). Located at 17218 Foothill Blvd. in Fontana, CA the property is shadow-anchored by Brunswick Foothill Bowling Center and is directly across from a well-established Wal Mart anchored shopping center.
The Progressive Real Estate Partners team of Brad Umansky, Frank Vora and Greg Bedell exclusively marketed the property and represented the seller, a private trust based in Los Angeles. Janet Valentin from VRE Commercial represented the buyer, a private investor based in Riverside.
Built in 2008, the center has a diverse mix of local and regional shops and services including Freeway Auto Insurance and RPM Lenders. The property features excellent signage and unobstructed visibility with 200 +/- feet of frontage on the heavily-traveled Foothill Blvd. corridor with a traffic count of over 32,000 cars per day. The location also enjoys strong demographics with a population in excess of 357,000 people within a 5-mile radius and an average income of $70,000.
"Given the center's high profile location, newer construction and impressive demographics, it's not surprising that the property generated multiple competitive offers and the entire transaction was completed in less than 90 days" according to Brad Umansky, president of Progressive Real Estate Partners. "Furthermore, the sale demonstrates the increasing number of qualified commercial real estate investors based in the Inland Empire. We expect the momentum to continue into 2015 as the Inland Empire market continues to strengthen and the demand for high quality assets increases".
About Progressive Real Estate Partners
Progressive Real Estate Partners is a boutique commercial brokerage firm headquartered in Rancho Cucamonga, California. Founded in 2008, the firm specializes in the leasing and sale of retail properties in Southern California's Inland Empire. The firm is also the exclusive Inland Empire representative of the Retail Brokers Network (RBN). Since the firm's inception Progressive has completed over 400 lease and sales transactions in over 35 cities throughout the region. Progressive uses the latest marketing and brokerage techniques to help retailers and property owners achieve their real estate goals. The firm is led by Brad Umansky, founder and president. For further information visit www.progressiverep.com.
You can also follow Progressive Real Estate Partners on Linkedin, Twitter (@Progressive_REP) or Facebook (facebook.com/ProgressiveRealEstatePartners).