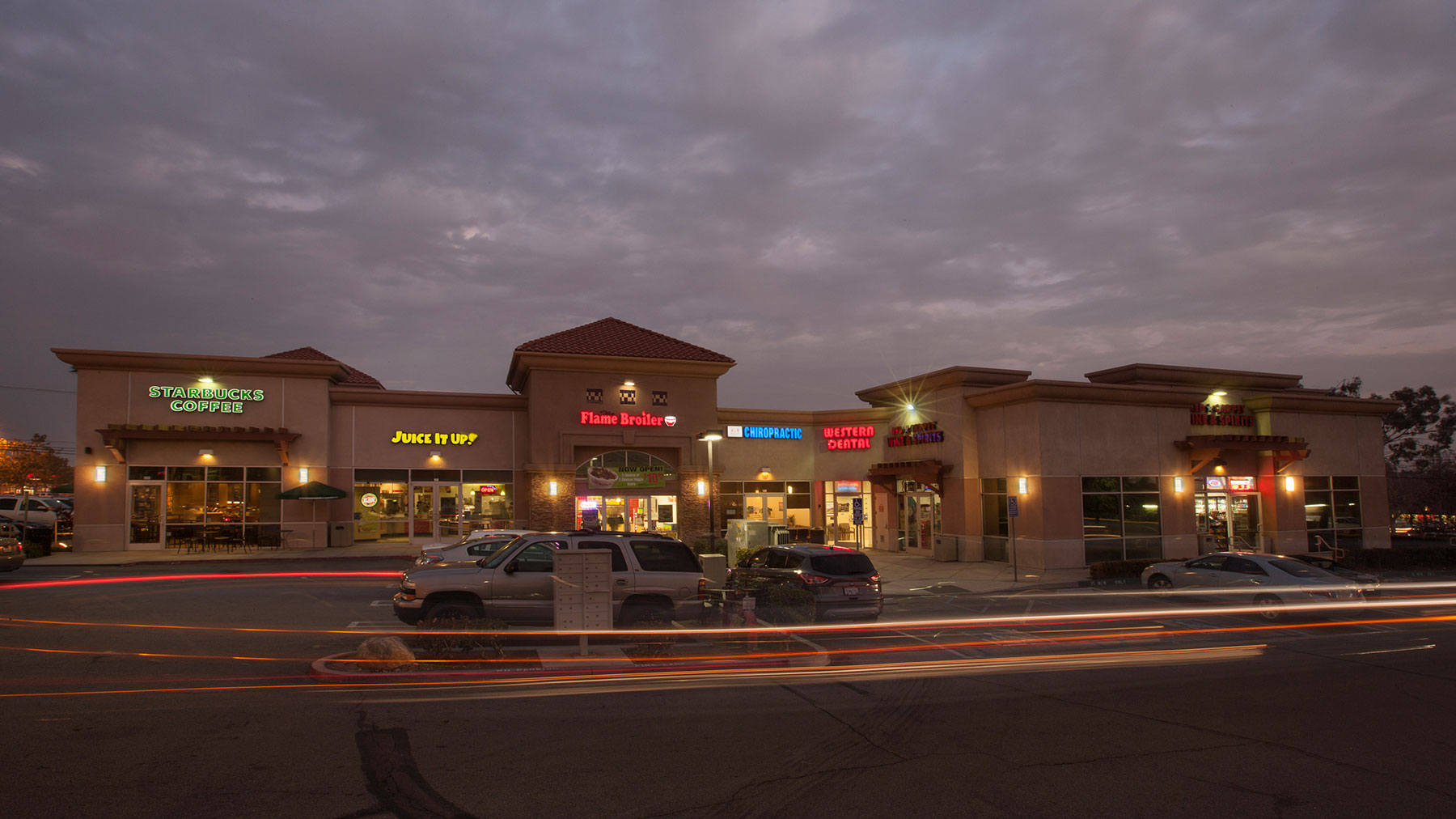 • The 100% Leased Trophy Multi-Tenant Retail Center Generated Multiple Offers
Rancho Cucamonga, CA – June 15, 2015 – Progressive Real Estate Partners, a leading Inland Empire retail brokerage, announced today the sale of Rancho Plaza, an 11,691 square-foot shopping center. The property sold for $6.8 million ($581 psf). Located at 8678 19th Street in Rancho Cucamonga, California, the center is adjacent to the heavily traveled I-210 freeway and directly across from a Vons and Rite Aid anchored neighborhood shopping center.
The Progressive Real Estate Partners broker team of Brad Umansky and Frank Vora, CCIM exclusively marketed the property.
The fully leased center was built in 2007 and features a mix of national and regional food and service retailers including Starbucks, Juice It Up, Flame Broiler and Western Dental. The center enjoys over 450 feet of unobstructed street frontage visibility and is conveniently located at a signalized corner with a traffic count of over 43,000 cars per day. In addition, Rancho Plaza benefits from strong demographics with over 290,000 people residing in a 5-mile radius with an average household income in excess of $85,000.
According to Brad Umansky, president of Progressive Real Estate Partners, "Given the center's superior location, 100% occupancy, newer construction and strong demographics, it's not surprising that it generated multiple competitive offers and sold in less than 90 days." Umansky added "This sale is a good representation of the increased demand we are seeing from our clients to acquire well-located, high profile retail properties in Southern California's Inland Empire market."
About Progressive Real Estate Partners
Progressive Real Estate Partners (PREP) is a boutique commercial brokerage firm headquartered in Rancho Cucamonga, California. Founded in 2008, the firm specializes in the leasing and sale of retail properties in Southern California's Inland Empire market. The office is also the exclusive Inland Empire representative of the Retail Brokers Network (RBN). Since the firm's inception Progressive has completed over 500 lease and sales transactions in over 35 cities throughout the region. Progressive uses the latest marketing and brokerage techniques to help retailers and property owners achieve their real estate goals. PREP is led by Brad Umansky, founder and president. For further information visit www.progressiverep.com.
You can also follow Progressive Real Estate Partners on Linkedin, Twitter (@Progressive_REP) or Facebook (facebook.com/ProgressiveRealEstatePartners).