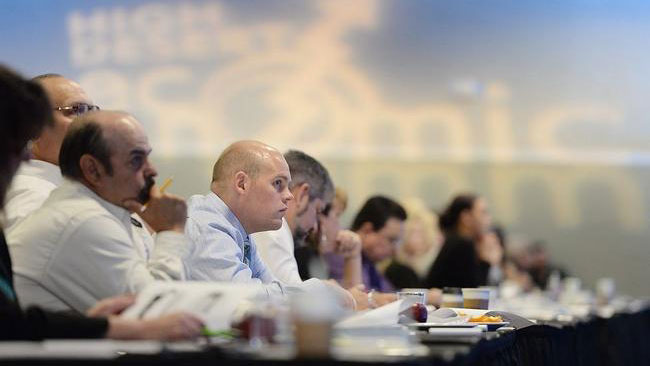 By Staff Reports, Victorville Daily Press
Economist Dr. John Husing kicked off the 17th annual High Desert Economic Summit on Tuesday morning by showing a slide with an arrow pointing between the words "optimism" and "excitement."
Noting that some of his previous appearances at the Hilton Garden Inn Conference Center in Victorville were long on pessimism and short on optimism, Husing was all smiles.
"You can see the arrow is between optimism and excitement," he told the crowd of more than 150 community and business leaders. "I can assure you that is the case."
Husing flipped through slide after slide of positive economic news: High consumer confidence, a strong dollar, impressive job growth, low petroleum prices that boost the buying power of moderate-income residents.
"We are doing very, very well, so quit being so being so damned depressed!" Husing said.
With just growth of 3,167 jobs this year, the Inland Empire will have regained all the 142,933 jobs it lost during the recession, Husing said.
"We've had three straight years of growth — two 50,000-job-growth years in a row," he said. "The Inland Empire unemployment rate is down to 6.5 percent, so it's no longer the highest of any metropolitan region in the United States."