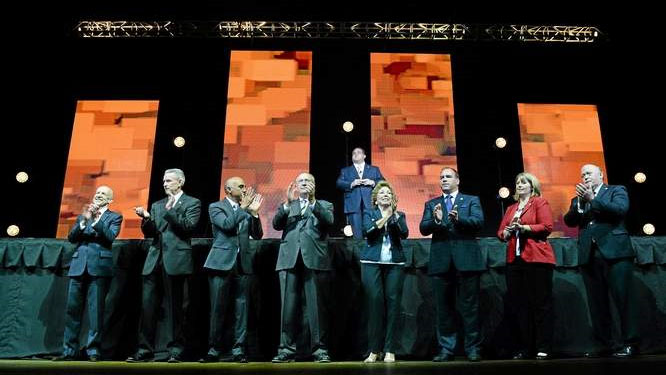 By Joe Nelson, The Sun
ONTARIO >> The job and real estate markets are growing in the Inland Empire. Credit is expanding, banks are lending more with the economy rebounding, and there is plenty of vacant land available for residential, commercial and industrial development.
And in California, the Inland Empire ranks No. 3 as having the fastest growth rate, at 4.2 percent, just under San Francisco and San Jose.
The momentum has been building so much in the Inland Empire that it was the theme of this year's State of the County event Wednesday at Citizens Business Bank Arena. The event included a panel discussion on real estate development, moderated by Beacon Economics founder and CEO Chris Thornberg and featuring panelists Terry Thompson, director of real estate services for San Bernardino County, John Magness, senior vice president of Hillwood Development, Michael Kendall, senior vice president of CBRE, Inc., and Dougall Agan, president and CEO of Stirling Development.
"We are really on the forefront of growth right now," Thornberg said.
While the county is poised for a new wave of residential and commercial development, the challenge will be ensuring the infrastructure is in place to accommodate development and attract developers to the region. Education will also be a challenge in terms of ensuring there are enough properly trained and educated employees to be recruited by new companies that open for business in the county, said Terry Thompson, the county's director of real estate services.
Chino Airport will be a game changer for the county, Thompson said. The county-owned airport recently secured a 10-year lease with Mooney International, a manufacturer of single engine planes. Michael Kendall, senior vice president of CABRE, Inc., a real estate brokerage company, said the recent sale by his company of the 17-building Tri-City Corporate Centre in San Bernardino shows the allure of San Bernardino County to outside real estate investors.
CABRE, Inc. sold the cluster of office buildings near Hospitality Lane to Hines, an international real estate firm, and Oaktree Capital Management in Los Angeles. The sale closed at $107 million, Kendall said.
"Those two players did not look at office space out here until that transaction," Kendall said of Hines and Oaktree Management.
The event closed with the traditional speech by the chairman of the Board of Supervisors.
"The relationships among the county officials is better than ever as we all work together, as a team, to ensure that San Bernardino County continues to pave the way for prosperity and economic growth," Board of Supervsisors Chairman James Ramos said before running a video featuring interviews with county officials and representatives from selected companies that have moved to San Bernardino County to do business and hold promise in sustaining the county's economic future.