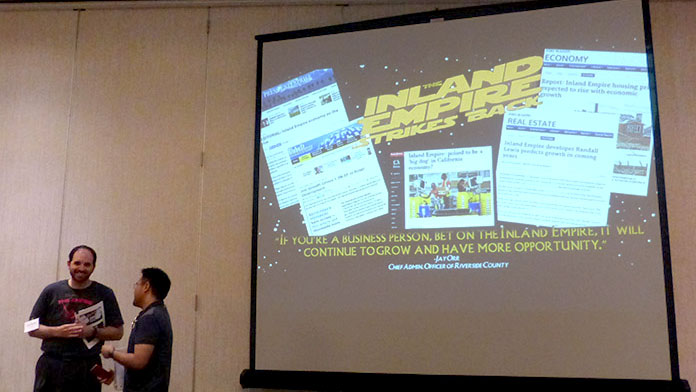 By Neil Nisperos, Inland Valley Daily Bulletin
ONTARIO >> With the Inland Empire real estate market heating up, a group of nearly 200 regional retail real estate brokers and developers with the Association of Corporate Real Estate Executives of Southern California, met for the first time in the Inland Empire, as part of an effort to spur on retail growth and development in the region.
With a 4.4 percent regional job growth in the past year, and new housing development, event organizer Brad Umansky, CEO of the Rancho Cucamonga-based commercial real estate firm Progressive Real Estate Partners, said the event, at the DoubleTree Hotel in Ontario on Tuesday, was a platform to convey the opportunity represented by the Inland Empire marketplace to Los Angeles- and Orange County-based real estate executives, who may not think as highly of the region as a place to invest in.
"A lot of people in the retail business may not recognize the amount of industrial growth that's happening out here and the amount of job growth, as well as all of the positive energy that's currently taking place, so we want to convey that to this group," he said.
Umansky said he hopes the real estate executives can take the information and help promote the area to people that they work with.
"A lot of these companies have to report back to other parts of the country and tell them why they have to allocate capital to this region and we're hoping to arm them with ammunition they can utilize to show them why this is such a great area to be investing in right now," Umansky said.
More than a dozen retailers, such as Waba Grill and Panda Express, were present to meet with real estate brokers, learn about new real estate opportunities, and make potential deals for new locations in the region.
"We've invited 15 to 20 retailers that have made it clear to us that they want to expand in this marketplace to meet with other people and to tell everyone about their growth plans," Umansky said.
Among the retailers present at the event to meet with real estate representatives was Cal True Value Hardware. The retailer plans to open new stores for the first time in the region, beginning in Rancho Cucamonga, Menifee, Palm Desert and Moreno Valley, said Lou Savani, director of store operations.
"This event is excellent," Savani said at a booth set up in the hotel. "You get to meet people face to face, people you wouldn't be able to meet at any other time. It's very valuable."
Savani said the Inland Empire marketplace represents a great opportunity for his company.
"I think it's an under-served market for hardware, and it's very economical for us to come here," Savani said. "I think it's more of a working class area, which is good for a hardware store and there are available sites for us here."
Another retailer present, WaBa Grill, began expanding in the region in the past several years. The company, which started in the city of Commerce in 2004, expanded from 34 stores to 95 in recent years, with about 25 percent of them in the Inland Empire, said Matthew Martinez, marketing manager for the WaBa Grill restaurant chain, which serves an Asian-fusion cuisine.
"The Inland Empire is a very diverse community for us and we have a lot of diverse customers and that kind of mimics Los Angeles County, so it's kind of a smaller version of it," Martinez said of the regional market.