Amazon Fresh recently opened in La Verne, California which is very close to where I live. The store opened in what was formerly an 89,000 SF Kohl's, but as a sign of the times, Kohl's downsized and leased out a portion of the store to Amazon. The store is approximately 40,000 square-feet and my wife and I enjoyed shopping there and checking it out.
Here Are Some of My Takeaways:
Nice Presentation: This was definitely one of my favorite aspects of the store. The store has a modern/industrial feel with concrete floors that were spotless, shelving systems that make it super easy to see the merchandise with very prominent and easy to read price tags, great lighting, wide aisles, and attractive fixtures.  For those looking for a warm Trader Joe's type of feel they may not find this layout inviting but for those like me that like clean, simple and efficient, Amazon nailed it.
Ask Alexa: I loved this feature. Throughout the store there are "Ask Alexa" kiosks where you can ask Alexa where certain items are in the store. I tested it a few times and found it to be very useful.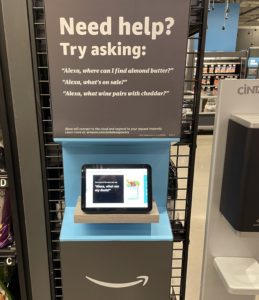 Cameras Everywhere: Because this is a cashier-less "Just Walk Out" concept where you don't need to utilize a check-out line (more on this later), there are hundreds of cameras suspended from the ceiling watching everything and somehow using the cameras to know what we purchased. My guess is the anti-surveillance crowd or those that are camera shy will likely avoid the store (and anecdotally probably not a good place to shop if you have recently committed a crime).
Prices: I visited the store with my wife who is a price and selection expert. Although there were certain items that were a really good deal—ie Special K Chocolatey Delight cereal (yum!)—most items were at a similar price point as a traditional grocery store. Although the Amazon name could imply better prices, consumers who are expecting low prices will be disappointed.
Excellent Selection: The selection of merchandise was excellent. Shoppers can expect to find all the typical brand names AND selection of merchandise as most grocery stores. I would suspect that Amazon is using their technology platform to avoid carrying certain merchandise that does not turn very often, but that should not concern most shoppers since they likely were not buying it anyway.
Vending Machine Shelves: The shelving system is very elaborate. Every item on the shelves is in its own separate slot. When you pick an item off the shelf, the newer item advances to the front. I am assuming that this is an inventory management system so they know exactly what they have in the store at any given time. I further assume that this integrates with their online shopping system so that their online inventory is always up to date. This avoids a customer buying for example the Special K Chocolatey cereal online only to find out it's not available.
Alcohol Is Separate: For those of you wondering how they avoid selling alcohol to minors, the alcohol section is in a separate area that requires the customer to walk through a doorway where an employee checks your ID.
Fruits & Vegetables: First, the selection was very well presented. This part of the store did have a Farmer's Market feel to it. Items were either priced on a per item basis (ie $.79/apple) or items were packaged together (4 small avocados for $3.99). This takes away the need to weigh the fruits and vegetables.
Hot & Cold Food Bar: There was a well-stocked hot and cold food bar where you could make yourself a salad or grab some pizza, meatballs, fried chicken, soups, etc. We did not partake in this area and it was only as I was driving home that I realized I did not know how this section worked in terms of pricing and how they would know what and how much the customer bought. I guess I'll need to go back and try it out. Also, there was a small seating area where you could enjoy your food.
Amazon Return Area: There was an Amazon return area where you could return unrelated grocery items to the store providing another reason to visit the store.
Parking for Amazon Delivery: Dedicated parking is also provided for Amazon delivery drivers. These stores are designed for people to easily be able to order online and have their groceries delivered to your home.
Just Walk Out Technology: Yes, I saved this for last. This is clearly the best part of the store as one of the worst parts of grocery shopping is the checkout process. It is frequently time consuming and annoying—ie why doesn't the person in front of me already have their payment method ready to go—and check-out can be very confining- personally I dislike having people in front of me and behind me and being boxed in by the registers.
When you enter the store, you walk through a turnstile that requires you to scan either a credit card tied to your Amazon account OR a QR code from your Amazon Prime app OR use their Amazon One palm reader technology that I'm not familiar with but is an option.
As you shop and place items in your cart the camera systems in the store know what you are buying. What I truly did not understand is how the system knew when I walked to another part of the store, picked something up and then walked back to where my wife had our shopping cart and put it in.
At the end, we just scanned again, walked out the turnstile, and hoped—this  was the worst part—that  the system worked. We did not get our receipt emailed to us until about 4 hours later. When we examined our receipt, we observed that the system missed a jar of tomato sauce and charged us for an extra paper bag.
FYI, there were a couple of registers for those that just are not comfortable with the technology.
 Summary
There are currently about 15 Amazon Fresh stores in Southern California and 30 stores overall including Virginia, Maryland, Pennsylvania, and Washington D.C. These stores are going to be very impactful in the marketplace. I see this concept as more of a threat to traditional grocery stores such as Albertson's, Von's, Stater Bros, & Ralphs than the more value-oriented markets such as Walmart's Neighborhood Market & Aldi. Busy people who are not as price conscious are going to love the convenience. I do not know what it costs to build these stores, but I'm guessing it's enormous.
Amazon is clearly betting on an upfront investment in technology vs. ongoing labor costs which is a trend I believe we will see continue throughout the retail industry.  Bottom line my wife and I will definitely be shopping there in the future.