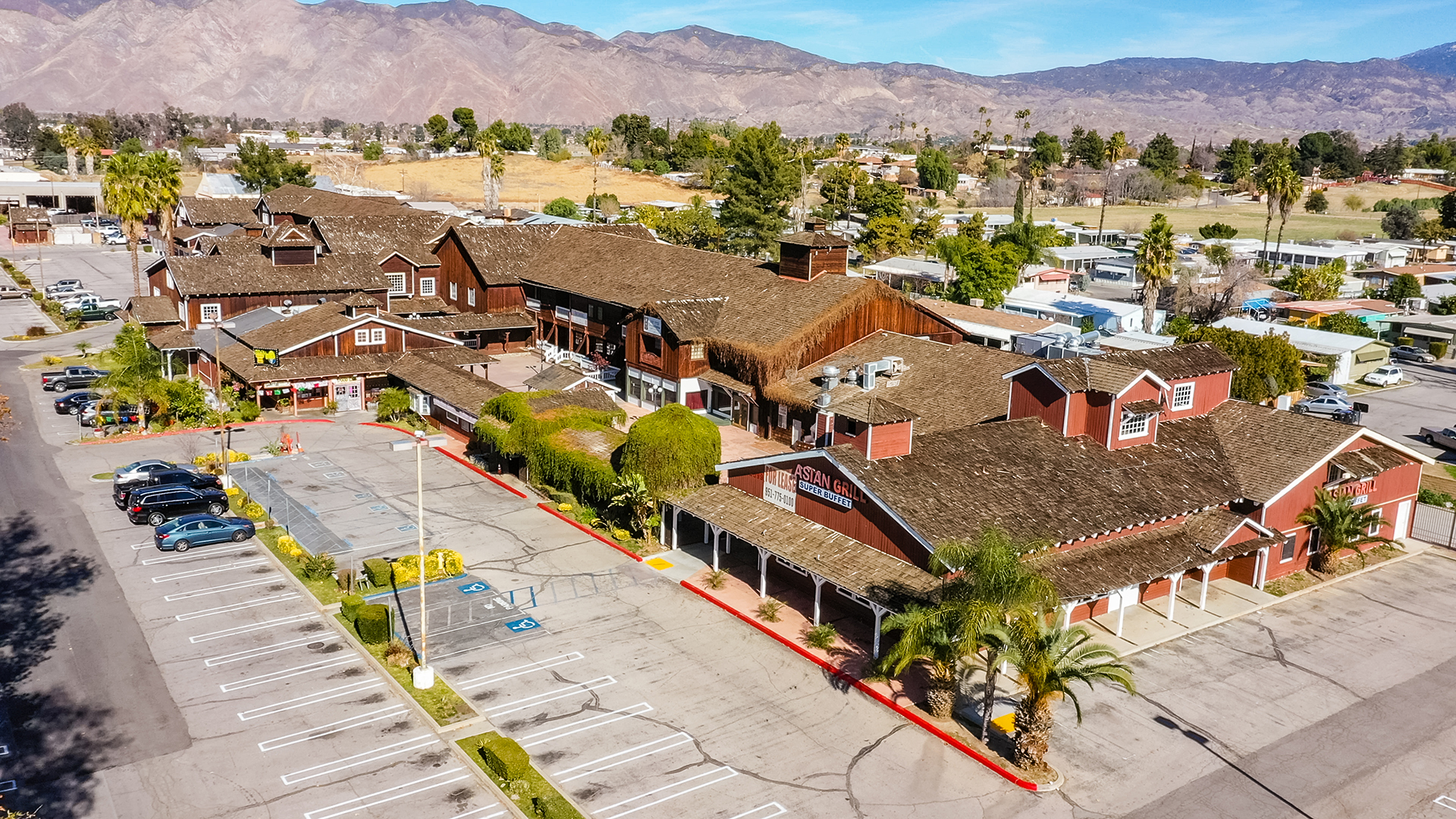 Rancho Cucamonga, CA – March 1, 2023 – The Progressive Real Estate Partners brokerage team of Greg Bedell and Mike Lin announced today the $3M sale of Farmer's Corner, a 77,000 sf farmhouse-style indoor retail center located at 2500 S. San Jacinto Avenue in San Jacinto, CA. San Jacinto has a rich history dating back to the late 1800's and the western-themed architecture of Farmer's Corner pays tribute to its ranching roots.  With a vacancy rate of approximately 40% there is an immediate upside opportunity for the new owner to lease-up the center and increase the property value.
The seller was a private Orange County investor and the buyer a private San Diego investor that also owns several SoCal retail properties including some in the San Jacinto area.  Both parties were represented by Bedell and Lin.
Built in 1980, the center is currently home to a variety of service-based tenants including a breakfast eatery, jeweler, barber, party supply and professional offices.  The vacancy includes a 9,000 sf fully equipped buffet (originally Acapulco Restaurant), ground floor retail spaces and second story offices. The center's indoor concourse features 20+ foot ceilings, exposed beams, landscaping and a water feature.  The buyer plans to update the property including replacing the roof and to implement an aggressive marketing effort to lease-up the vacancy.
Farmer's Corner enjoys excellent street-frontage at the signalized intersection of S. San Jacinto and Menlo Avenue with visibility to over 26,000 cars per day.  Within a 3-mile radius there are nearly 120,000 residents and over 22,000 employees.
According to Bedell "Due to the high vacancy and significant deferred maintenance this was a very challenging transaction.  Fortunately, we were able to identify a buyer familiar with the trade area and one that appreciated the opportunity to invest in a property with significant upside potential. We worked diligently with the seller, buyer and lender to structure a transaction that fulfilled the objectives of all parties involved."
Lin added, "This sale also benefits the City and the local community given the buyer's plans to revamp the property and restore its profitability. We look forward to watching the progress as the project moves forward."
About Progressive Real Estate Partners
Progressive Real Estate Partners (PREP) is a boutique commercial brokerage firm headquartered in Rancho Cucamonga, California. Founded in 2008, the firm specializes in the leasing and sale of retail properties in Southern California's Inland Empire market.  The office is also the exclusive Inland Empire representative of the Retail Brokers Network (RBN). Since the firm's inception Progressive has completed over 1,200 lease and sales transactions valued at more than $1.8B in 35+ cities throughout the region. Progressive uses the latest marketing and brokerage techniques to help retailers and property owners achieve their commercial real estate goals.