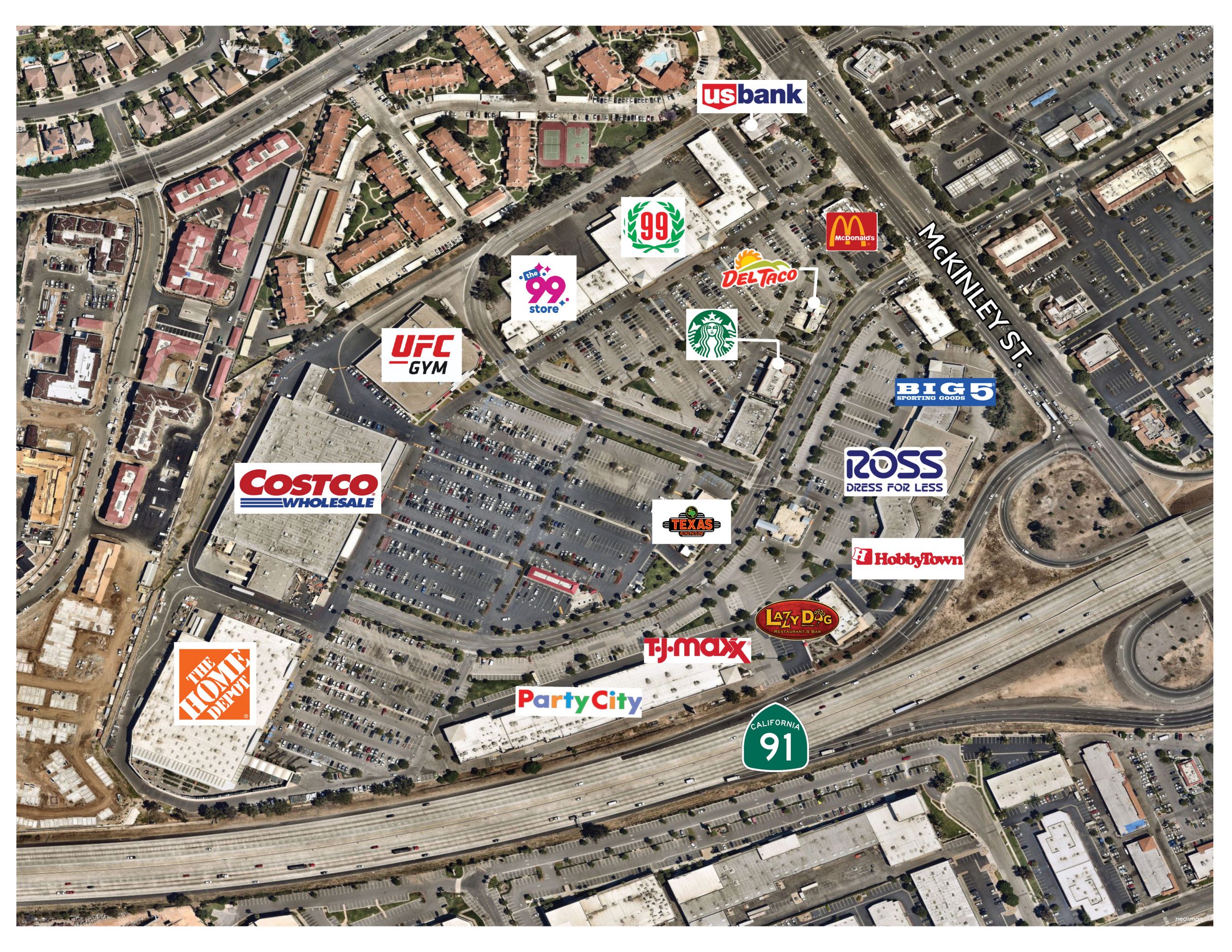 Rancho Cucamonga, CA – March 1, 2022 – Progressive Real Estate Partners, the Inland Empire's leading retail real estate brokerage, announced today the signing of five new leases totaling 21,765 square feet at Corona Hills Plaza bringing the center to 97% leased.
The popular outdoor regional center is located adjacent to the heavily traveled 91 Freeway at McKinley Street and is home to Costco, Home Depot, 99 Ranch Market, Ross, TJ Maxx, UFC Gym, Big 5 and over 40 other shops, services and restaurants.
Progressive Real Estate Partners' brokers Roxy Klein, VP of Retail Leasing & Sales and Paul Su, VP of Retail Leasing & Sales, represented the landlord, Kimco Realty in the following transactions:
Party City – 10,600 SF
HobbyTown – 6,440 SF
Yoshiharu Ramen – 1,925 SF
R & B Tea – 1,400 SF
AT & T – 1,400 SF
 "We are very excited to welcome these five new brand recognized tenants to Corona Hills Plaza.  They will be a great addition to the center and will further enhance the overall shopping and dining experience for our customers," according to Ben Terry, Director of Real Estate at Kimco Realty.
Corona Hills Plaza is ideally situated at the 91 Freeway and McKinley Street with outstanding visibility to over 230,000 cars per day and features easy access with two signalized entrances. Prominent pylon and monument signage throughout provide the center's retailers enhanced visibility. Furthermore, the center is located in a densely populated area with over 474,000 people with an average household income in excess of $100,000 within a 15-minute drive.
According to Roxy Klein, "The combination of strong anchor retailers, superb freeway visibility and impressive demographics made Corona Hills Plaza very attractive to these retailers".
Paul Su added, "There is significant demand for space in "best in class" shopping centers in SoCal's Inland Empire region and Corona Hills Plaza was able to deliver exactly the type of space these retailers desired".
About Kimco Realty®
Kimco Realty® (NYSE:KIM) is a real estate investment trust (REIT) headquartered in Jericho, N.Y. that is North America's largest publicly traded owner and operator of open-air, grocery-anchored shopping centers and mixed-use assets. The company's portfolio is primarily concentrated in the first-ring suburbs of the top major metropolitan markets, including those in high-barrier-to-entry coastal markets and rapidly expanding Sun Belt cities, with a tenant mix focused on essential, necessity-based goods and services that drive multiple shopping trips per week. Kimco Realty is also committed to leadership in environmental, social and governance (ESG) issues and is a recognized industry leader in these areas. Publicly traded on the NYSE since 1991, and included in the S&P 500 Index, the company has specialized in shopping center ownership, management, acquisitions, and value enhancing redevelopment activities for more than 60 years. As of December 31, 2021, the company owned interests in 541 U.S. shopping centers and mixed-use assets comprising 93 million square feet of gross leasable space. For further information, please visit www.kimcorealty.com
 About Progressive Real Estate Partners
Progressive Real Estate Partners (PREP) is a boutique commercial brokerage firm headquartered in Rancho Cucamonga, California. Founded in 2008, the firm specializes in the leasing and sale of retail properties in Southern California's Inland Empire market.  The office is also the exclusive Inland Empire representative of the Retail Brokers Network (RBN). Since the firm's inception Progressive has completed over 1,200 lease and sales transactions valued at over $1.8B in over 35 cities throughout the region. Progressive uses the latest marketing and brokerage techniques to help retailers and property owners achieve their real estate goals.