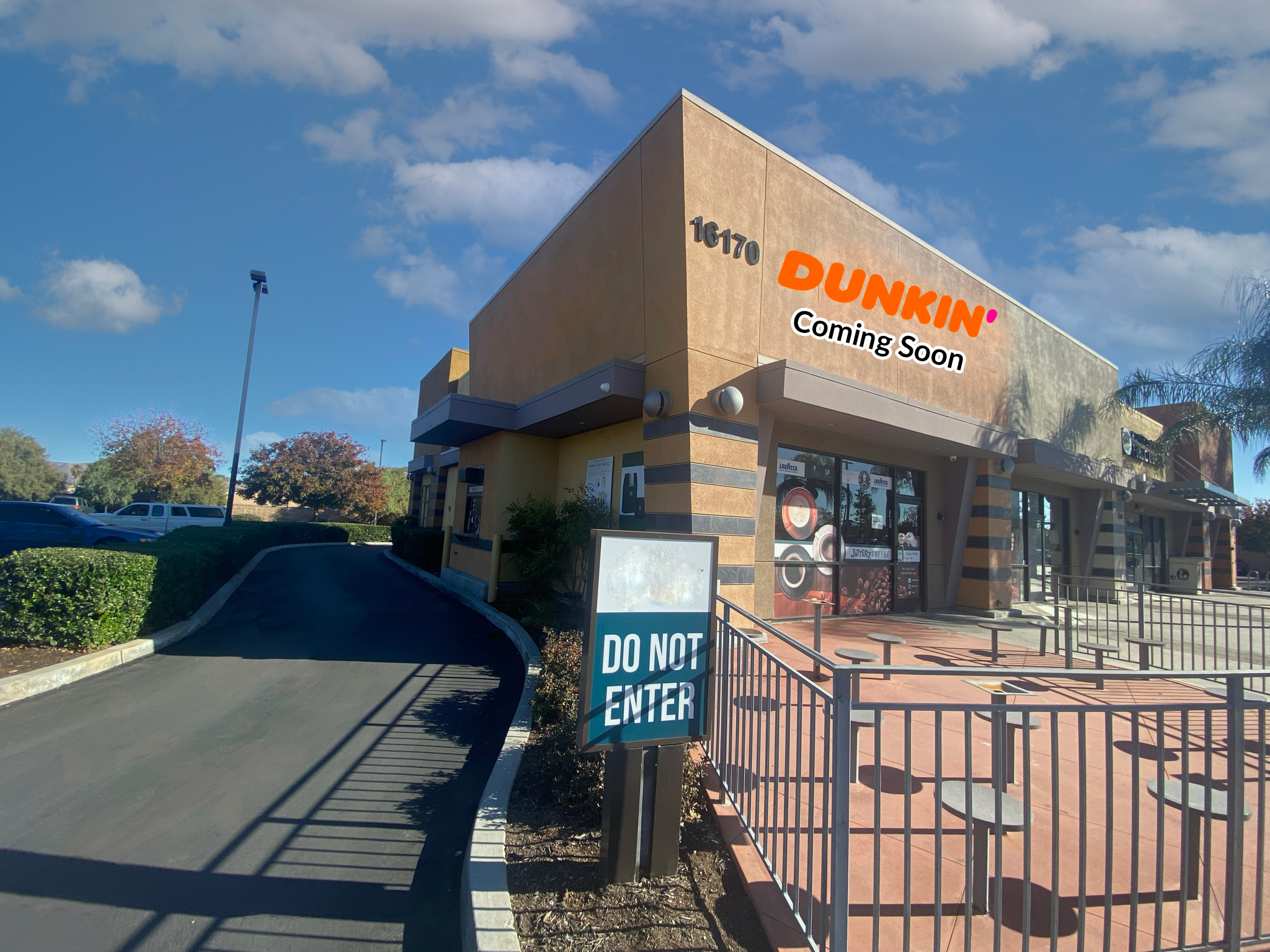 Rancho Cucamonga, CA – June 21, 2022  – VP of Retail Leasing & Sales Roxy Klein of Progressive Real Estate Partners represented the landlord in leasing a 2,062 sf drive-thru end cap space with patio to Dunkin' at 16170 Perris Boulevard in Moreno Valley, CA.  The location is part of the approximately 90,000 sf Iris Plaza neighborhood shopping center which is also home to Fitness 19, Walgreens, AutoZone, IHOP, KFC, Carl's Jr. and Del Taco. 
The franchisee operates 25+ Dunkin' locations and will be renovating the space to reflect Dunkin's most current prototype with an emphasis on providing customers a fast and convenient drive-thru experience. Founded in 1950, Dunkin' is one of America's favorite places for coffee and baked goods. The menu includes a variety of hot and iced coffees, donuts, bagels, muffins and breakfast sandwiches. With more than 12,600 restaurants in 40 countries worldwide, Dunkin' has earned a No. 1 ranking for customer loyalty in the coffee category by Brand Keys for 14 years running.
Iris Plaza is ideally located at the signalized intersection of Perris Blvd. and Iris Avenue with a combined average daily traffic count of 43,000+ cars.  The property is across from Home Depot and is less than two miles from Moreno Valley College and March Air Force Base.  The area is also part of a major industrial hub that is home to distribution and fulfillment centers for Amazon, Lowe's, P & G, Lowes, Ross and many others.
Roxy Klein represents landlords and owners in the leasing and sale of their retail properties throughout Southern California. To view her current listings click here.  To learn more about how Roxy can help you achieve your retail real estate goals you can reach her at 909.576.4259 or roxy@progressiverep.com.
About Progressive Real Estate Partners
Progressive Real Estate Partners (PREP) is a boutique commercial brokerage firm headquartered in Rancho Cucamonga, California. Founded in 2008, the firm specializes in the leasing and sale of retail properties in Southern California's Inland Empire market.  The office is also the exclusive Inland Empire representative of the Retail Brokers Network (RBN). Since the firm's inception Progressive has completed over 1,200 lease and sales transactions valued at more than $1.8B in 35+ cities throughout the region. Progressive uses the latest marketing and brokerage techniques to help retailers and property owners achieve their commercial real estate goals.