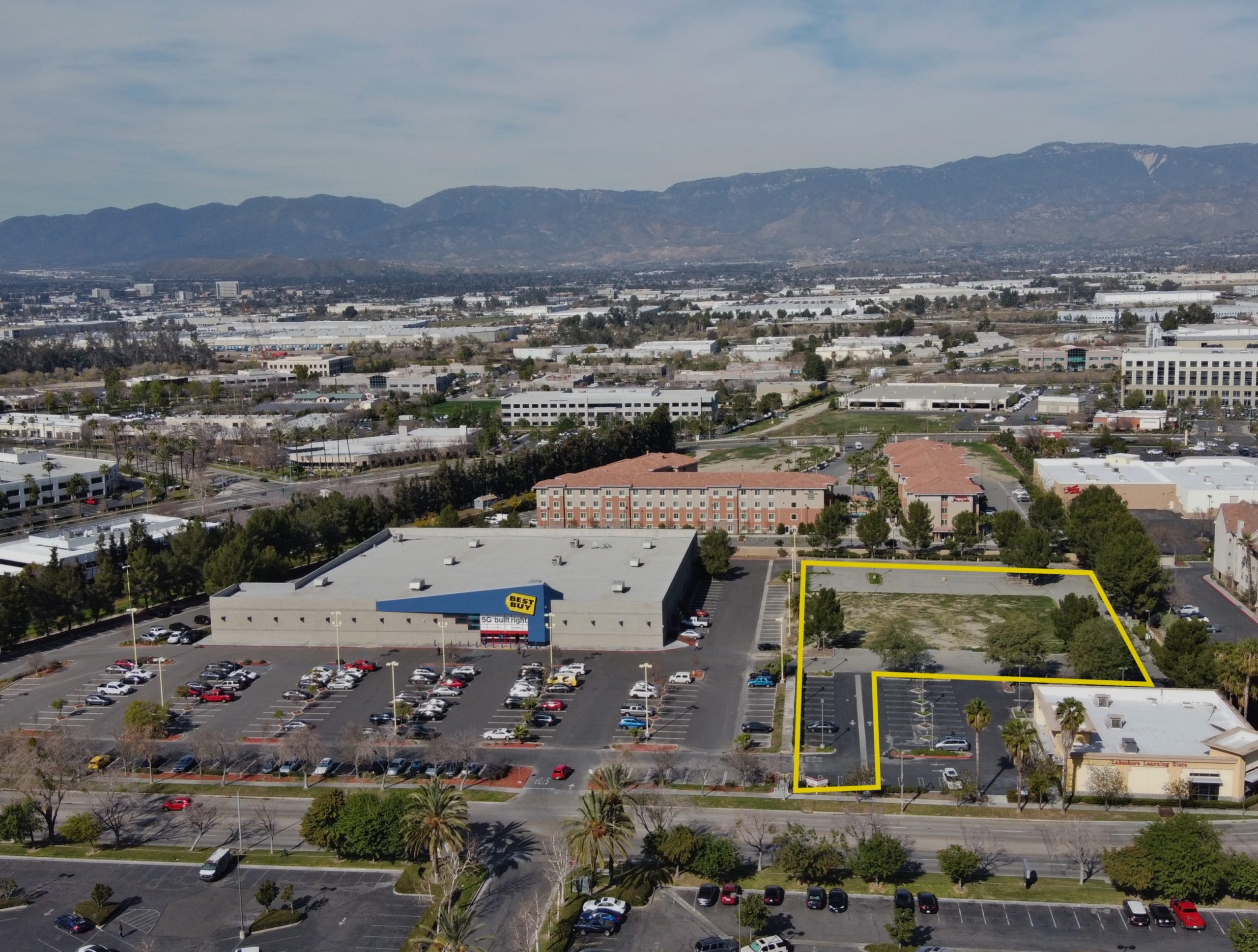 Rancho Cucamonga, CA – January 26, 2023 – Progressive Real Estate Partners, the leading SoCal Inland Empire retail real estate brokerage firm, announced today the $1,850,000 sale of 1.72 acres of land at 898 E. Harriman Place in San Bernardino, CA.  The land is adjacent to Best Buy and is located in the popular Hospitality Lane District which is a major Inland Empire shopping, dining and hospitality destination.
Paladin Equity Capital, which is a SoCal based full-service real estate investment and development company, purchased the land and plans to develop an Everhome Suites extended stay hotel on the site.  Everhome is the newest franchised brand recently launched by Choice Hotels which is one of the largest lodging franchisors in the world with over 22 brands representing nearly 650,000 rooms.  There are a number of Everhome hotels currently in development with the first location having recently opened in Corona, California.
Progressive Real Estate Partners' President Brad Umansky and Senior VP Paul Galmarini represented the seller, Los Angeles based NHOS Enterprises.  Paladium Equity was represented by Kevin Barry at Irish Commercial Brokerage.
The San Bernardino Everhome Suites hotel is projected to break ground in summer of 2023 and will encompass approximately 60,000 square feet and feature 117 rooms.  The extended stay hotel concept is specifically designed to accommodate the lifestyle of longer-stay guests. Apartment-style suites with fully equipped kitchens and customizable spaces, including workstations, full-size closets, additional storage and spa-like bathrooms are some of the amenities. Properties also feature relaxing public spaces, fitness center and 24/7 self-service marketplace with a variety of food and beverage options.
The Hospitality Lane District is ideally located adjacent to the heavily traveled I-10 freeway with average daily traffic counts of over 200,000 cars.  The district includes over 5M square feet of retail, office, dining, and hospitality uses including nationally recognized brands like Costco, Sam's Club, 24 Hr. Fitness, Curacao. Aldi, Home Depot, Staples, Buffalo Wild Wings, BJ's Brewhouse, Olive Garden, Lakeshore Learning, Residence Inn, Hampton Inn and others. It's also a very densely populated area with over 224,000 people residing within 5-miles as well as a daytime population of over 142,000 employees.
According to Brad Umansky, "San Bernardino's Hospitality Lane has rightfully become the major hospitality destination for the San Bernardino, Loma Linda and Redlands trade areas. Furthermore, the acquisition of this land, which was originally designated for retail, is indicative of the popular trend toward positioning hospitality uses adjacent to retail."
About Progressive Real Estate Partners
Progressive Real Estate Partners (PREP) is a boutique commercial brokerage firm headquartered in Rancho Cucamonga, California. Founded in 2008, the firm specializes in the leasing and sale of retail properties in Southern California's Inland Empire. The firm is also the exclusive Inland Empire representative of the Retail Brokers Network (RBN).   Since the firm's inception Progressive has completed over 1,200 lease and sales transactions valued at over $1.8B in over 35 cities throughout the region.  Progressive uses the latest marketing and brokerage techniques to help retailers and property owners achieve their real estate goals.