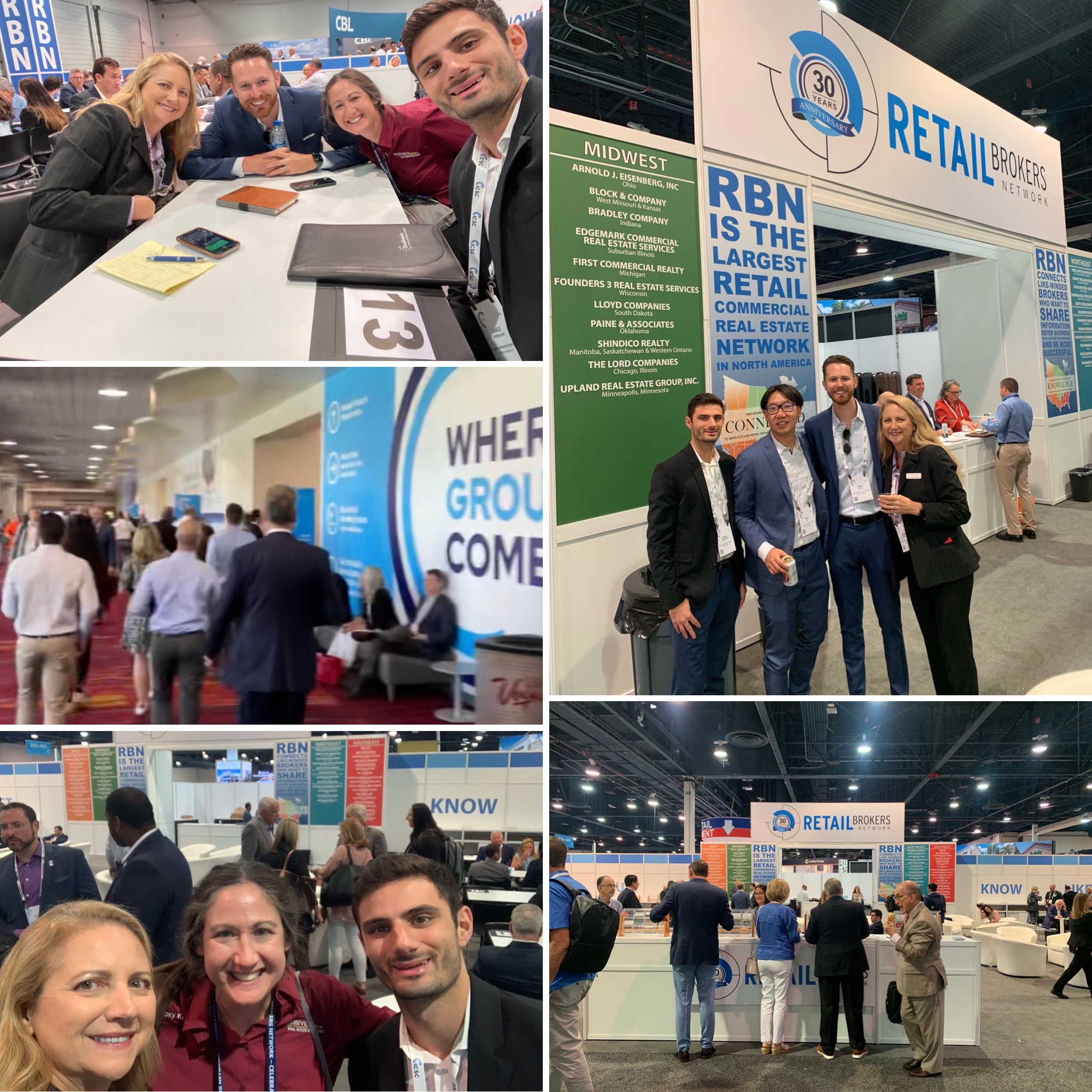 The 2022 ICSC convention in Las Vegas just concluded this past week after a two-year hiatus due to the pandemic.  The comeback was strong with 21,000+ in attendance and was easily the biggest meeting of industry professionals since the start of the pandemic.
Although I didn't personally attend, six members of the Progressive Real Estate Partners team were at the show and based on my conversations with them it was clearly successful and very high energy with lots of networking, learning and deal making opportunities. Our firm is a member of the Retail Brokers Network (RBN) and once again they hosted a booth which was our home base and non-stop busy.
Here are some of the noteworthy takeaways from the team:
Excitement to Be In-Person: Our VP of Leasing and Sales, Paul Su, shared that there was widespread enthusiasm for just being together again. He indicated, "Everyone was just so happy to see each other and the in-person experience definitely makes a huge difference to the relationship building process. There were many people I connected with who I have only spoken to or emailed with over the past two years and meeting with them in person certainly increases the probability of our working together in the future."
Housing Mandates Are Shifting City Goals: SoCal's Inland Empire has traditionally had the largest number of cities of any region at ICSC events. This year was no different. Cities in attendance included Apple Valley, Banning, Beaumont, Chino, Chino Hills, Desert Hot Springs, Coachella, Colton, Eastvale, Fontana, Indio, Jurupa Valley, Lake Elsinore, Menifee, Montclair, Moreno Valley, Murrieta, Ontario, Palm Desert, Perris, Rancho Cucamonga, Redlands, Rialto, Riverside, San Jacinto, Upland, and Victorville. Representatives of the counties of San Bernardino & Riverside were also at the show.
According to our newest team member, Lance Mordachini, who participated in many meetings with the cities, "They all seem focused on bringing mixed use residential and commercial developments to their communities. Although state mandates for supplying housing is pushing them to utilize commercial land for residential projects, the cities still want the benefits and amenities of quality retail projects."
Construction & Entitlement Costs Are Top of Mind: According to Senior VP, Paul Galmarini, "It seemed that most meetings had some discussion of how expensive it has become to build ground up projects and also re-tenant 2nd generation spaces."  He added, "It's also taking a lengthy amount of time to obtain entitlements and city staff as well as architects, engineers and other consultants all seem to be operating at full capacity which is hindering getting entitlements over the finish line. Everyone is focused on finding ways to keep the approval and development process on track."
Tenants Want to Expand But Quality Space is Lacking: Overall the team expressed that all the tenants that they met with have an appetite for expansion. According to Roxy Klein, VP Retail Leasing & Sales, "there was a very positive momentum throughout the conference. The general consensus from both retailers and tenant rep brokers is that tenants are looking to expand, however due to the sector's declining vacancy rate prime retail real estate is extremely competitive, considering many tenants have the same site criteria"
Developers and Property Owners are Concerned: Rising construction costs and the potential of higher cap rates are creating a very challenging environment for developers and property owners. According to Greg Bedell, Senior VP of Investment Sales, "Developers need to look at least 18 months into the future and the future is very unclear to most. They recognize that historically low cap rates have helped many projects that went over their construction budget, but now they are unsure of what the future holds. Developers are finding it difficult to agree to lease terms today when they are unsure of construction costs and exit cap rates." Property owners also seemed to be concerned about not only the cost of re-tenanting spaces, but how their existing tenants will handle rising labor, merchandise, financing and other costs of doing business. Some are seeing individual tenants within their projects struggling and they are concerned that it might be more difficult to replace existing tenants.
It's Still a People Business: There was a collective feeling that being able to see so many industry colleagues within such a short window of time is incredibly beneficial. According to Monica Dal Bianco–West, Retail Leasing & Sales Specialist, "In two days I was able to speak with more corporate real estate representatives and/or their brokers than I could have talked to in a month. I had the opportunity to better understand their needs and when applicable, present many of my listings to these individuals. Bottom line, the opportunity to put names and personalities together with voices and email addresses from the past two years reinforced that despite all the technology, this is a relationship business."
Personally, I missed being at the show but I'm very pleased that several members of our team attended and that they had such a productive and meaningful conference.
In closing a big THANK YOU to our colleagues at RBN for all their efforts providing and hosting the booth space AND to the ICSC planning team on putting on a stellar convention. I'm certainly looking forward to being back on the convention floor next year.